Print Options:
Warm Buckwheat Salad with Roasted Shallots, Apples, and Frisée


Yields
Serves 3 as a main course, or 6 as a side (serving size: 1 cup)


Total Time
50 mins
Kasha--roasted buckwheat that's been hulled and crushed--has a nutty, smoky flavor that goes well with sweet apples and mildly bitter frisée. You could swap in spelt or wheat berries for the buckwheat.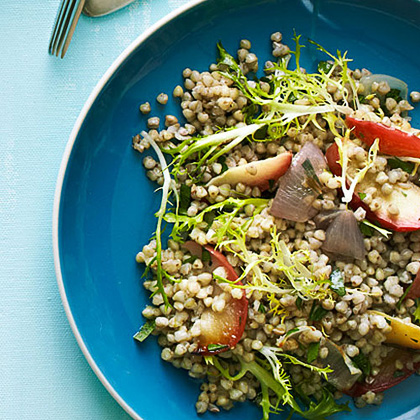 Photo: Annabelle Breakey; Styling: Kevin Crafts
1 cup coarsely cracked buckwheat groats (kasha)*
5 large shallots, peeled and quartered
2 tart-sweet apples such as Gala, cored and cut into 1/2-in. wedges
1 teaspoon kosher salt, divided
1 teaspoon pepper, divided
5 tablespoons olive oil, divided
3 tablespoons sherry vinegar
1 tablespoon Dijon mustard
1 cup frisée lettuce pieces
1/2 cup chopped flat-leaf parsley
Step 1
1
Bring 2 cups water to a boil in a medium pot. Add buckwheat, cover, and reduce heat to low. Cook until water is absorbed, about 10 minutes. Set aside.
Step 2
2
Preheat oven to 425°. Toss shallots and apples with 1/2 tsp. each salt and pepper and 1 tbsp. oil, spread on a baking sheet, and roast, stirring occasionally, until apples are golden and barely tender and shallots are lightly caramelized, 12 to 15 minutes.
Step 3
3
Whisk together remaining 4 tbsp. oil, remaining 1/2 tsp. each salt and pepper, the vinegar, mustard, and honey in a large bowl. Add reserved buckwheat, warm apples and shallots, frisée, and parsley and toss gently.
Step 4
4
*Find in the international aisle with the Eastern European ingredients.
Step 5
5
Note: Nutritional analysis is per serving.
Nutrition Facts
Servings Serves 3 as a main course, or 6 as a side (serving size: 1 cup)
---
Amount Per Serving

Calories 257

Calories from Fat 41

% Daily Value *

Total Fat 12g

19

%

Saturated Fat 1.6g

8

%

Cholesterol 0.0mg

0

%

Sodium 324mg

14

%

Total Carbohydrate 37g

13

%

Dietary Fiber 4g

16

%

Protein 4.2g

9

%
---
* Percent Daily Values are based on a 2,000 calorie diet. Your daily value may be higher or lower depending on your calorie needs.