Print Options:
Veggie Chili


Yields
8 Servings


Total Time
3 hrs 30 mins
"Chili is definitely something I make for myself at home. It's comforting to eat, but it's also a dish that is easy to cook in a big pot and share," says Che Fico Chef David Nayfeld. Serve it with Nayfeld's Brown Butter Maple Cornbread.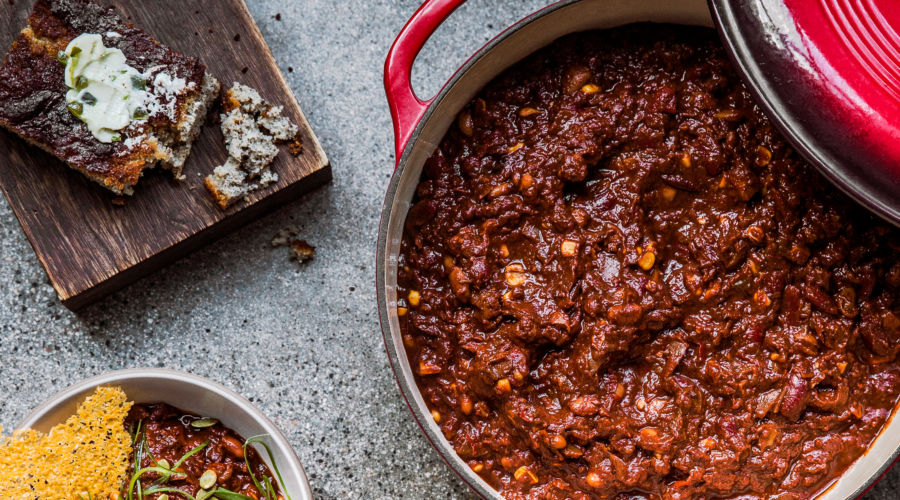 Thomas J. Story
1
cup
each dried pinto beans and dried kidney beans, sorted of debris and rinsed, and soaked separately for two nights in 3 cups water each
1
oz
each dry guajillo chile and dry ancho chile, stemmed and seeded, and soaked separately overnight in 1 1/2 cups hot water each
1
tbsp
90/10 canola and olive oil blend
3 ½
cups
cups diced yellow onion
1 ½
cups
cups diced carrot
3
oz
jalapeño chile, seeded and diced
4 ½
tbsp
apple cider vinegar
2
oz
canned chipotle chiles in adobo
1 ½
tbsp
tbsp. brown sugar
3
tbsp
finely chopped dark chocolate (80% cacao)
Sour cream, sliced green onion, pepitas, parmesan crisps, for garnish (optional)
1
Drain and rinse beans; set aside. Drain chiles and reserve 1/2 cup of each soaking liquid; set aside.
2
Heat a large pot over medium-low heat. Add oil, then onion, carrot, bell pepper, jalapeño, garlic, and 1/2 tsp. salt. Stir frequently on medium-low heat until liquid is released and vegetables start to stew down.
3
Add the paprikas, chili powder, cayenne, cumin, black pepper, onion powder, tomato paste, beans, and tomatoes and stir to incorporate.
4
In a medium bowl, use an immersion blender to purée the chiles, the reserved chile soaking liquids, 1 1/2 tbsp. vinegar, the chipotle in adobo, brown sugar, 1 1/2 tsp. salt, and 3 tbsp. water. Add mixture to pot, bring to a simmer, and simmer lightly for 1 1/2 hours.
5
Add corn and 1/3 cup water to pot, bring back to a simmer, and let simmer lightly for 1 hour.
6
Remove pot from heat. Stir in the chocolate, 1/2 tsp. salt, and the remaining 3 tbsp. vinegar. Serve warm, topped with garnishes, if using.
Nutrition Facts
Servings 0