Print Options:
Uova Benedetto (Poached Eggs on Polenta with Pesto and Crisp Prosciutto)


Yields
Makes 4 servings


Total Time
1 hr
We loved this quote, included with the original 1983 Sunset recipe, which read, "Here is Benedict's robust Italian cousin ... If Benedict is a boulevardier in the style of Maurice Chevalier, we see Benedetto as a sort of Chico Marx, raffish and resourceful, with neckcloth, short jacket, and elfish hat." Prep and Cook Time: 1 hour.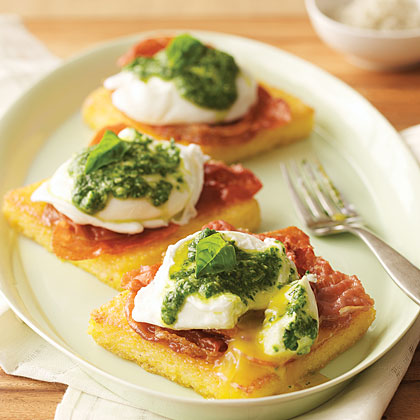 Photo: Dan Goldberg; Styling: Dan Becker
About 4 tbsp. butter, divided, plus more for pan
10 to 12 thin slices prosciutto
Step 1
1
In a 3- to 4-qt. pan over high heat, bring 3 cups water to a boil. Gradually stir in polenta. Reduce heat and simmer gently, uncovered, stirring frequently to prevent sticking, until mixture is very thick, about 25 minutes. Stir in 2 tbsp. butter.
Step 2
2
Spoon polenta into a buttered 8- to 9-in. square pan; spread in an even layer and let stand at least 10 minutes (or cool, cover, and refrigerate up to overnight). Cut polenta into 4 squares and gently remove from pan with a wide spatula.
Step 3
3
Melt 2 tbsp. butter in a large frying pan over medium-high heat. Add polenta squares and cook, turning once, until crispy and lightly browned on both sides, about 10 minutes. Add more butter, if needed, to prevent sticking. Lift out to a warm platter; keep warm. Add prosciutto to pan and cook until meat is lightly browned (add more butter to pan, if needed). Remove and keep warm.
Step 4
4
Fill a large, clean frying pan with about 1 1/2 in. of water. Set over medium-high heat, add vinegar, and heat until bubbles form on pan bottom, with an occasional bubble popping to the top. Break eggs into water, keeping them slightly apart. Cook until egg whites are firm but yolks are still soft, 3 to 4 minutes. Gently remove eggs with a slotted spoon.
Step 5
5
Place 2 or 3 slices prosciutto on each polenta square, top each with a poached egg, then spoon pesto sauce evenly over top.
Step 6
6
Note: Nutritional analysis is per serving.
Nutrition Facts
Servings 0
---
Amount Per Serving

Calories 741

Calories from Fat 56

% Daily Value *

Total Fat 46g

71

%

Saturated Fat 17g

85

%

Cholesterol 287mg

96

%

Sodium 885mg

37

%

Total Carbohydrate 58g

20

%

Dietary Fiber 8.7g

35

%

Protein 26g

52

%
---
* Percent Daily Values are based on a 2,000 calorie diet. Your daily value may be higher or lower depending on your calorie needs.