Print Options:
Tuna Tortas with Pico de Gallo


Yields
Makes 2 sandwiches

We loved the way the fresh tastes of cilantro and lime brightened the flavor of canned tuna in this Mexican-style sandwich created by Jennifer Lira. To seed tomatoes, cut in half crosswise; squeeze out and discard seeds and juice. If desired, garnish sandwiches with lettuce leaves.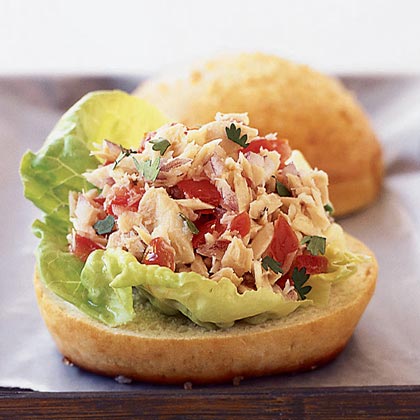 James Carrier
1 can (6 oz.) solid white tuna packed in water
4 ounces Roma tomates, rinsed, seeded, cured, and chopped (see notes)
1/4 cup chopped fresh cilantro leaves
2 fresh serrano chilies or other small hot chilies, rinsed, stemmed, seeded, and minced
2 sandwich rolls (3 oz. each), split in half horizontally
Step 1
Step 2
2
Mound tuna equally on sandwich roll bottoms and set tops in place.
Step 3
3
Nutritional analysis per sandwich.
Nutrition Facts
Servings 0
---
Amount Per Serving

Calories 402

Calories from Fat 18

% Daily Value *

Total Fat 7.9g

13

%

Saturated Fat 2.4g

12

%

Cholesterol 33mg

11

%

Sodium 1314mg

55

%

Total Carbohydrate 54g

18

%

Dietary Fiber 4.2g

17

%

Protein 33g

66

%
---
* Percent Daily Values are based on a 2,000 calorie diet. Your daily value may be higher or lower depending on your calorie needs.