Print Options:
Trout with Pumpkin Seed-Sage Gremolata


Yields
Serves 4


Total Time
25 mins
A riff on the classic Italian combo of bread crumbs, garlic, and parsley, this dish's crunchy topping contrasts nicely with the delicate trout. If you don't have day-old bread, toast fresh bread in a low oven.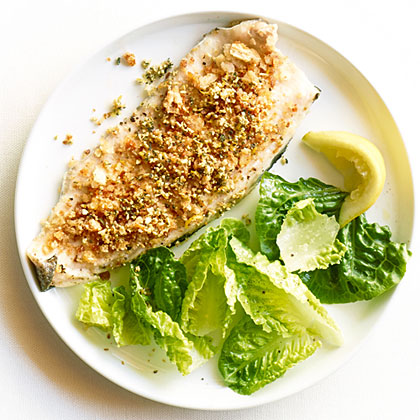 Photo: Annabelle Breakey; Styling: Randy Mon
About 3 tbsp. olive oil, divided
1 garlic clove, lightly crushed and peeled
2 ounces day-old bread (about 2 slices), torn
About 1/4 tsp. kosher salt
2 tablespoons chopped fresh sage leaves
1/4 cup toasted pumpkin seeds (pepitas)
2 cleaned, boned rainbow trout (about 10 oz. each), heads and tails removed
Step 1
1
Preheat oven to 425° and line a rimmed baking pan with parchment paper; set aside. Heat 2 tbsp. oil in a large frying pan over medium heat. Add garlic clove and cook until lightly browned, about 2 minutes; remove garlic and reserve.
Step 2
2
Pulse bread pieces in a food processor until coarse crumbs form. Add crumbs to frying pan (don't wipe out bowl of processor) with 1/4 tsp. each salt and pepper and cook, stirring, until crunchy and lightly golden, about 3 minutes. Remove from heat and set aside.
Step 3
3
Put sage, reserved garlic clove, and lemon zest in food processor and pulse until well chopped. Add the pumpkin seeds and salt to taste and pulse until coarsely chopped.
Step 4
4
Cut fish down the center to create 4 fillets. Rub each with scant 1 tsp. of remaining oil and season with salt and pepper. Place fillets on prepared baking pan and roast until fish starts to turn opaque, about 5 minutes.
Step 5
5
Sprinkle bread crumbs over fish. Roast until crumbs are browned and fish is cooked through, about 5 minutes more. Transfer to plates, sprinkle with gremolata, and serve with lemon wedges and green salad.
Nutrition Facts
Servings Serves 4
---
Amount Per Serving

Calories 364

Calories from Fat 51

% Daily Value *

Total Fat 21g

33

%

Saturated Fat 3.3g

17

%

Cholesterol 82mg

28

%

Sodium 333mg

14

%

Total Carbohydrate 11g

4

%

Dietary Fiber 1.7g

7

%

Protein 32g

64

%
---
* Percent Daily Values are based on a 2,000 calorie diet. Your daily value may be higher or lower depending on your calorie needs.