Print Options:
Tropical Heaven Ice Cream Sundaes


Yields
Serves 4


Prep Time
30 mins

Freeze Time
4 hrs

Total Time
4 hrs 30 mins
Zingy lemon-lime ice cream, rich coconut sorbet, sweet ripe pineapple, and toasted coconut--it's the taste of an island vacation. A pineapple is ripe if it smells fragrant and it's easy to pull a leaf from the center of the crown (if you have to tug, the pineapple isn't ready).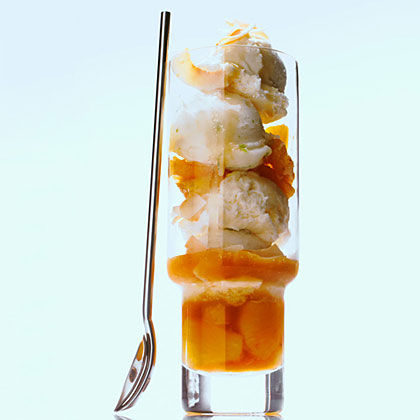 Photo: Iain Bagwell; Styling: Karen Shinto
2 cups lemon sorbet, softened
1/4 cup light brown sugar
1/2 fresh pineapple, peeled, cored, and cut into 1/2-in.-thick chunks
1/2 cup wide-flake unsweetened coconut, toasted
2 cups coconut sorbet or ice cream
Step 1
1
Stir lemon sorbet, lime juice, and lime zest to­geth­er in a bowl. Freeze until firm, 4 hours.
Step 2
2
Melt butter and brown sugar together in a medium frying pan over medium-high heat. Add pineapple and cook until sauce thickens to a glaze, 8 to 10 minutes. Let cool.
Step 3
3
Divide half the pineapple among 4 sundae glasses. Put 2 small scoops lemon-lime sorbet in each glass and top with half the toasted coconut, dividing evenly. Divide remaining pineapple among glasses and top each with 2 small scoops coconut sorbet. Pour in any pine­apple syrup and top with remaining coconut.
Nutrition Facts
Servings Serves 4
---
Amount Per Serving

Calories 434

Calories from Fat 36

% Daily Value *

Total Fat 17g

27

%

Saturated Fat 14g

70

%

Cholesterol 7.6mg

3

%

Sodium 86mg

4

%

Total Carbohydrate 69g

23

%

Dietary Fiber 2.3g

10

%

Protein 2.1g

5

%
---
* Percent Daily Values are based on a 2,000 calorie diet. Your daily value may be higher or lower depending on your calorie needs.