Print Options:
Triple-decker Citrus Popsicles


Prep Time
30 mins

Freeze Time
4 hrs 15 mins

Total Time
4 hrs 45 mins
The better your fruit, the more delicious these bright, intense popsicles will be. Lisa Brenneis of Churchill-Brenneis Orchard uses the farm's Oroblanco grapefruit, Gold Nugget tangerines and/or Page tangelos, and Moro blood oranges for her popsicles--but you can use any combination of citrus.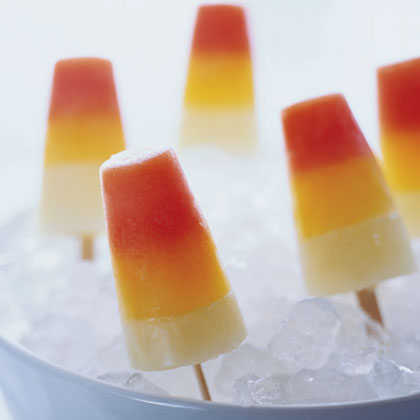 Photo: Victoria Pearson; Styling: Rori Trovato
1 cup freshly squeezed blood orange juice (from 2 to 3 blood oranges)
1 cup freshly squeezed tangerine juice (from 3 to 4 large tangerines)
1 cup freshly squeezed white grapefruit juice (from 1 to 2 grapefruit)
About 1/4 to 1/2 cup superfine sugar (see Notes)
1 to 2 tbsp. fresh lemon juice
Step 1
1
Taste the blood orange juice. Add 2 tbsp. sugar and 1 tsp. lemon juice and stir until sugar is completely dissolved. Taste again to see if it has the right sweetness and tartness for you, bearing in mind that, when frozen, the juice will taste more subdued; add up to 1 tbsp. sugar and 1 tsp. lemon juice if needed. Repeat with tangerine and grapefruit juices, using the same range of sugar and lemon juice for each.
Step 2
2
Fill each of 8 popsicle molds (see Notes) 1/3 full with blood orange juice and freeze, making sure they're level and upright, until firm to the touch, about 45 minutes.
Step 3
3
Fill each mold 1/3 more with tangerine juice and freeze just until firm to the touch, another 45 minutes. Carefully insert sticks, leaving 1 1/2 to 2 inches of each sticking out. Freeze until sticks feel solidly anchored, about 45 minutes.
Step 4
4
Fill each mold to top with grapefruit juice, cover, and freeze 2 hours or overnight.
Step 5
5
To unmold, run warm water over the individual molds just until popsicles release from sides, 5 to 15 seconds.
Step 6
6
Note: Nutritional analysis is per popsicle.
Nutrition Facts
---
Amount Per Serving

Calories 77

Calories from Fat 2

% Daily Value *

Total Fat 0.2g

1

%

Saturated Fat 0.0g

0

%

Cholesterol 0.0mg

0

%

Sodium 1.5mg

1

%

Total Carbohydrate 19g

7

%

Dietary Fiber 0.1g

1

%

Protein 0.5g

1

%
---
* Percent Daily Values are based on a 2,000 calorie diet. Your daily value may be higher or lower depending on your calorie needs.