Print Options:
Torta de Papa with Salmon (Potato Cake with Salmon)


Yields
Makes 4 servings


Total Time
3 hrs
In true fusion fashion, traditional Mexican potato pancakes are the base for chef Ulises Santiago's Mediterranean-inspired salmon. Notes: Marinate the fish up to 1 day ahead. The potato cakes (tortas de papas) and roasted chiles and onions can be made up to 1 day ahead, then chilled. To reheat, place in a 9- by 13-inch baking pan. Bake in same oven with salmon until hot, 10 to 15 minutes. Let onion and chiles warm to room temperature. Pisco is a clear, brandylike spirit popular in Chile and Peru; it's found in some liquor stores. Prep and Cook Time: at least 1 hour, plus 2 hours to marinate fish.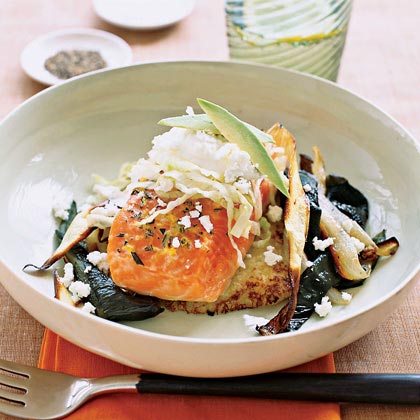 Monica Buck
1 1/2 pounds boned, skinned salmon fillet (1 1/2 to 2 in. thick)
1/2 teaspoon chopped fresh or crumbled dried rosemary
1/2 teaspoon grated lemon peel
About 1/4 cup extra-virgin olive oil
3 tablespoons pisco liquor or tequila
2 fresh poblano chiles (1/2 lb. total), rinsed (see notes)
1 onion (1/2 lb.), peeled and cut into 8 wedges
About 1 cup shredded iceberg lettuce
4 to 6 ounces thinly sliced queso fresco (or feta cheese)
1/3 to 1/2 cup crema fresca (or sour cream)
About 8 ounces sliced firm-ripe avocado
Step 1
Step 2
2
Rinse salmon and cut into 4 equal pieces. Place in an 8- or 9-inch square pan. Sprinkle with rosemary and lemon peel, then drizzle with 1 tablespoon olive oil and pisco. Cover and chill at least 2 hours or up to 1 day; turn fish over occasionally.
Step 3
3
Meanwhile, pour about 1 teaspoon olive oil into your palm, then rub chiles and onion wedges with oil. Spread vegetables out in a 10- by 15-inch baking pan.
Step 4
4
Bake until chiles have black spots and onions are tinged with brown, 25 to 30 minutes; turn occasionally. Let cool 15 minutes, then remove chile skins; pull out stems and discard seeds. Cut chiles into 1 1/2-inch-wide strips.
Step 5
5
Shape mashed potatoes into 4 equal patties (tortas de papas). Rub a 12-inch nonstick frying pan lightly with olive oil. Set pan on medium-high heat; when hot, lay patties in pan; brown on each side, turning once using a small spatula to push patty onto wide spatula, about 8 minutes total. Transfer to a baking sheet or pan; keep warm in a 400° oven up to 20 minutes.
Step 6
6
While potato patties brown, put salmon, uncovered, in the same 400° oven and bake until the pink color of fish is even to the center (cut to test), 15 to 18 minutes; baste several times with pan juices.
Step 7
7
Place a torta de papa on each plate, set a piece of salmon on top, and surround with onions and chiles. Then top each portion equally with lettuce, queso fresco, crema fresca, and avocado. Add salt and pepper to taste.
Step 8
8
Wine pairing: Sparkling brut Champagne with a high percentage of Pinot Noir, such as Korbel Natural Sonoma County Champagne, Russian River Valley.
Nutrition Facts
Servings Makes 4 servings
---
Amount Per Serving

Calories 690

Calories from Fat 60

% Daily Value *

Total Fat 46g

71

%

Saturated Fat 9.3g

47

%

Cholesterol 113mg

38

%

Sodium 115mg

5

%

Total Carbohydrate 32g

11

%

Dietary Fiber 3.4g

14

%

Protein 38g

76

%
---
* Percent Daily Values are based on a 2,000 calorie diet. Your daily value may be higher or lower depending on your calorie needs.