Print Options:
Tomato Mashed Potatoes


Yields
Makes 6 to 8 servings

Notes: Gemma Sciabica of Modesto, California, uses a fruity olive oil in her mashed potatoes. If making up to 1 day ahead, cool, cover, and chill. Reheat, covered, in a microwave-safe container in a microwave oven on full power (100%), stirring occasionally, until hot, 5 to 7 minutes. Or bake, covered, in a shallow 1 1/2- to 2-quart casserole in a 325° oven (350° if baking with a turkey at that temperature), stirring once after 30 minutes, until hot in the center, 40 to 50 minutes total.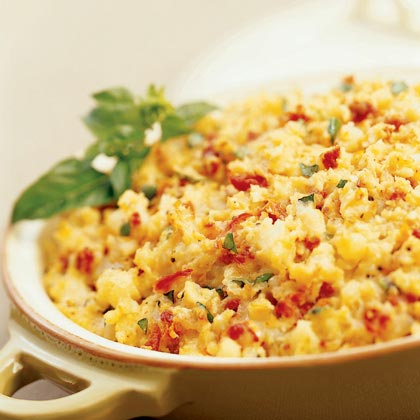 James Carrier
3 pounds thin-skinned potatoes
1 to 2 tablespoons minced garlic
1/2 cup grated romano cheese
1/2 cup minced fresh basil leaves or parsley
1/8 teaspoon paprika or cayenne
3/4 cup chopped drained oil-packed tomatoes
Step 1
1
In a 5- to 6-quart pan over high heat, bring 1 quart water to a boil.
Step 2
2
Peel and rinse potatoes; cut into 1-inch chunks. Add potatoes to boiling water; cover and return to a boil, then reduce heat to medium and simmer until potatoes mash easily, 10 to 12 minutes.
Step 3
3
Meanwhile, in a 1- to 1 1/2-quart pan over medium heat, warm 1 cup milk and garlic until steaming, about 5 minutes. (Or in a 2-cup microwave-safe container, heat milk and garlic in a microwave oven on full power (100%) until steaming, 1 to 2 minutes.)
Step 4
4
Drain potatoes and return to pan. Add the hot milk mixture, oil, cheese, basil, and paprika. Mash with a potato masher or an electric mixer until potatoes are as lumpy or smooth as you like, adding a little more milk for a softer, creamier texture if desired. Stir tomatoes into mixture. Add salt and pepper to taste.
Nutrition Facts
Servings 0
---
Amount Per Serving

Calories 307

Calories from Fat 47

% Daily Value *

Total Fat 16g

25

%

Saturated Fat 3.3g

17

%

Cholesterol 9.5mg

4

%

Sodium 95mg

4

%

Total Carbohydrate 34g

12

%

Dietary Fiber 4.3g

18

%

Protein 7.2g

15

%
---
* Percent Daily Values are based on a 2,000 calorie diet. Your daily value may be higher or lower depending on your calorie needs.