Print Options:
Tomatillo Salsa Verde


Yields
Makes 3 cups (serving size: 1/4 cup)


Total Time
1 hr 15 mins
Chef and cookbook author Joanne Weir first made this tangy, mellow salsa at Copita, her restaurant in Sausalito, California. It's still her favorite salsa for chips, chicken tacos, and enchiladas verde. She also customizes it by adding mint or avocado--or charring ingredients for a robust flavor that's especially good in carne asada tacos. (See directions that follow.)
Minty: Follow directions for Tomatillo Salsa Verde. With the cilantro, add 3 tbsp. chopped fresh mint leaves. Makes 3 cups.
Creamy: Follow directions for Tomatillo Salsa Verde. In step 2, add 1 large, ripe avocado, peeled, pitted, and cut into chunks; pulse until coarsely puréed. Add extra lime juice and salt to taste. Makes 3 3/4 cups.
Charred: Follow directions for Tomatillo Salsa Verde, but don't peel onion or garlic. Instead of simmering ingredients, heat a large cast-iron skillet over medium-high heat 5 minutes. Add tomatillos, onion, garlic, and chile. Cook, turning vegetables occasionally, until blackened on several sides, 20 minutes total. Let stand until cool enough to handle, then peel onion and garlic. Pulse ingredients in a blender just until chunky, and don't add additional liquid. Makes 2 1/3 cups.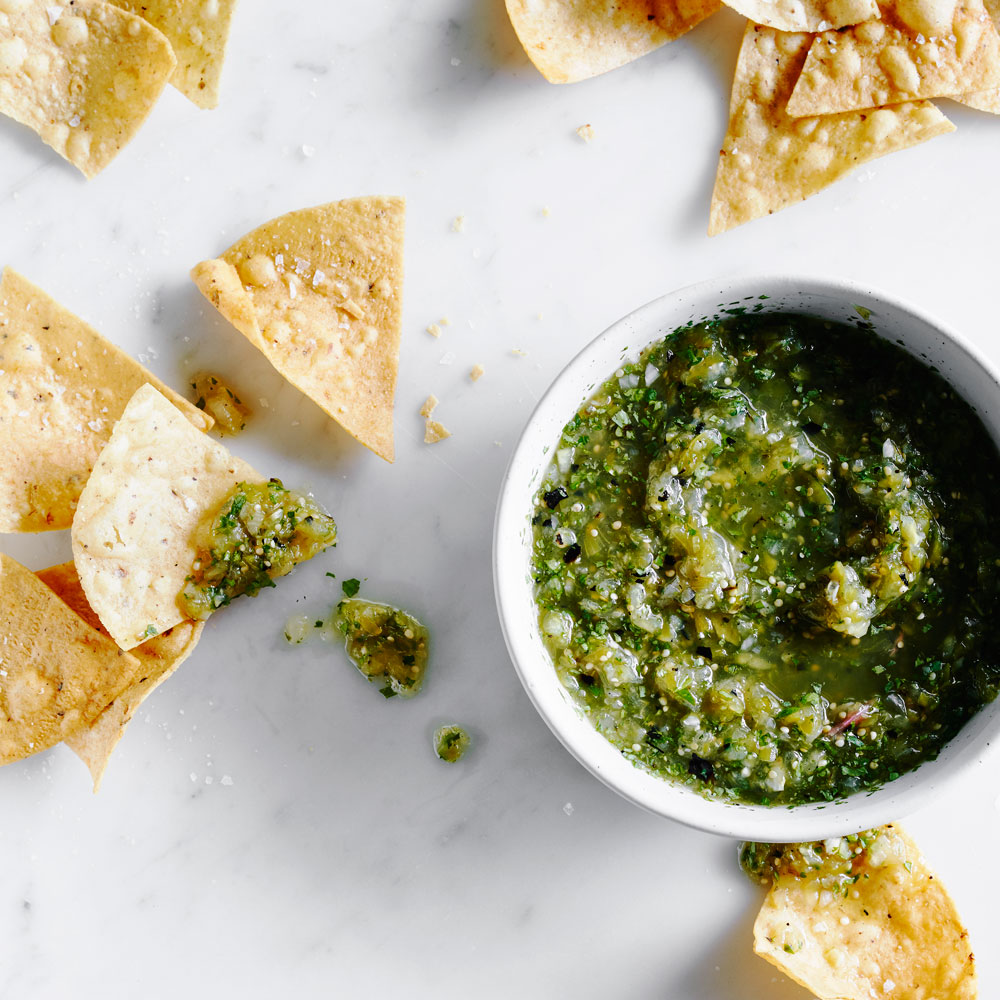 1 1/4 pounds medium tomatillos, husks and stems removed, rinsed
1 small garlic clove, peeled
1 serrano chile, stem removed
About 1 1/2 tsp. kosher salt
Step 1
1
Put tomatillos, onion, garlic, and chile in a 2- to 3-qt. saucepan with 2 cups water. Cover and bring to a boil over medium-high heat, then reduce heat and simmer until tomatillos start to split, 10 to 12 minutes. Uncover and set aside to cool about 45 minutes (don't drain).
Step 2
2
Reserving liquid, transfer ingredients from pan to a blender with a slotted spoon. Add 1/4 cup tomatillo water to blender and purée until smooth.
Step 3
3
Add cilantro and pulse three or four times. Pour salsa into a bowl and stir in lime juice and salt to taste.
Step 4
4
Make ahead: Up to 4 days, chilled airtight.
Nutrition Facts
Servings 0
---
Amount Per Serving

Calories 16

Calories from Fat 25

% Daily Value *

Total Fat 0.5g

1

%

Saturated Fat 0.1g

1

%

Cholesterol 0.0mg

0

%

Sodium 191mg

8

%

Total Carbohydrate 3g

1

%

Dietary Fiber 0.9g

4

%

Protein 0.5g

1

%
---
* Percent Daily Values are based on a 2,000 calorie diet. Your daily value may be higher or lower depending on your calorie needs.