Print Options:
Tiny Cardamom Orange Cookies


Yields
Makes about 80 cookies (serving size: 5 cookies)


Total Time
1 hr
Hints of cardamom, orange, sesame, and pistachio provide a final Eastern Mediterranean flourish to the picnic. They're so small, you can eat them by the handful.
Picnic tip: Pack cookies in an airtight, crushproof container.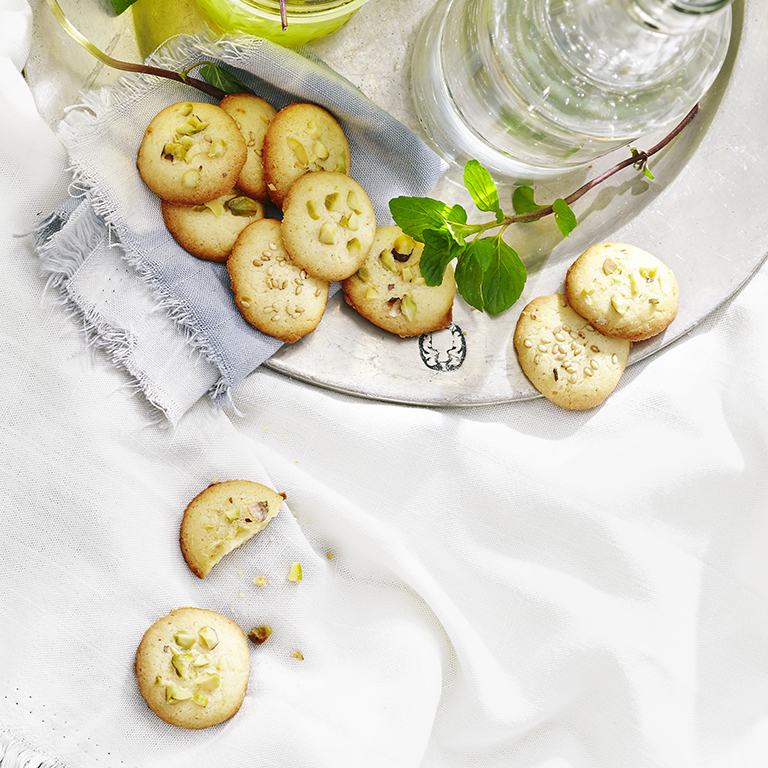 Photo: Annabelle Breakey; Styling: Jeffrey Larsen
1/4 teaspoon ground cardamom
1 teaspoon vanilla extract
1 tablespoon toasted sesame seeds or chopped salted roasted pistachios (optional)
Step 1
1
Preheat oven to 375°. In a medium bowl, thoroughly blend sugar and orange zest, then blend in cardamom. Add butter and beat with a mixer until light and fluffy.
Step 2
2
Beat egg and vanilla into sugar-butter mixture. On low speed, mix in flour.
Step 3
3
Line 3 baking sheets with parchment paper. Drop batter onto sheets using a level teaspoon measure. Top each cookie with a pinch of sesame seeds or nuts if you like. Bake until crisp and brown at the edges, 10 to 12 minutes.
Step 4
4
Transfer cookies to a cooling rack and let cool completely.
Nutrition Facts
Servings 0
---
Amount Per Serving

Calories 113

Calories from Fat 50

% Daily Value *

Total Fat 6.5g

10

%

Saturated Fat 3.8g

19

%

Cholesterol 29mg

10

%

Sodium 46mg

2

%

Total Carbohydrate 12g

4

%

Dietary Fiber 0.3g

2

%

Protein 1.4g

3

%
---
* Percent Daily Values are based on a 2,000 calorie diet. Your daily value may be higher or lower depending on your calorie needs.