Print Options:
The Hatch Burger


Yields
Serves 4


Total Time
50 mins
At Umami Burger restaurants in Los Angeles and San Francisco, these juicy, full-flavored, mildly spicy burgers are seasoned with Umami Dust and Umami Master Sauce (order at umami.com/shop). Soy sauce makes a good substitute.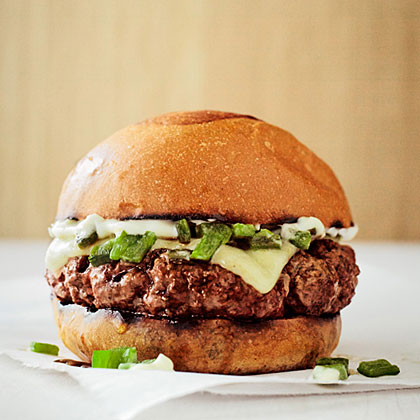 Photo: Iain Bagwell; Styling: Emma Star Jensen
3/4 teaspoon kosher salt, divided
1 1/2 pounds ground beef (80% lean)
4 slightly sweet rolls, such as Hawaiian sandwich or Kaiser
4 slices white American cheese
Step 1
1
Broil chiles on a rimmed baking sheet, turning as needed, until blackened on all sides, about 10 minutes. Let cool. Peel, then cut open and remove stem and seeds. Finely chop chiles. Put in a medium bowl and stir in 1/4 tsp. salt. Mix mayonnaise with garlic in another medium bowl.
Step 2
2
Heat a grill or griddle to medium (350° to 450°). Mix beef with remaining 1/2 tsp. salt in a large bowl until just combined. Divide into 4 portions and form each into a 1/2-in.-thick patty with a slight depression in the center.
Step 3
3
Oil cooking grate or griddle with a wad of oiled paper towels. Grill burgers, turning once and sprinkling with about 1/2 tsp. soy sauce on each side, until done the way you like, 7 to 8 minutes for medium. During the last minute, lay a cheese slice on each burger to melt it.
Step 4
4
Meanwhile, lightly butter cut sides of rolls and toast on grill or griddle, about 2 minutes.
Step 5
5
Spread garlic mayo on cut sides of rolls. Add burgers, topping each with about 2 tbsp. chile mixture.
Nutrition Facts
Servings Serves 4
---
Amount Per Serving

Calories 800

Calories from Fat 56

% Daily Value *

Total Fat 50g

77

%

Saturated Fat 20g

100

%

Cholesterol 159mg

53

%

Sodium 1707mg

72

%

Total Carbohydrate 46g

16

%

Dietary Fiber 2.3g

10

%

Protein 42g

84

%
---
* Percent Daily Values are based on a 2,000 calorie diet. Your daily value may be higher or lower depending on your calorie needs.