Print Options:
Thai Red Curry Fish Stew


Yields
Makes 6 servings (serving size: 1 1/2 cups of curry and 1 cup of rice)


Total Time
45 mins
Light coconut milk works well in this fish stew, and prepared
Thai
red curry paste, found in most supermarkets, makes it a snap to put together.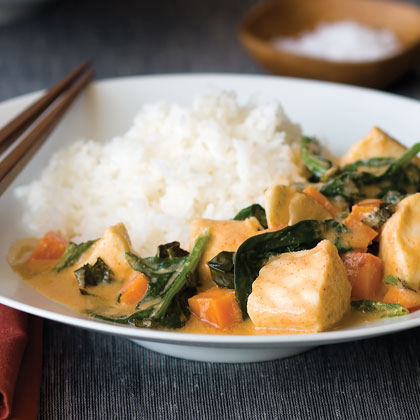 Leo Gong
1 large sweet potato (often labeled
2 cans (13 1/2 oz. each) light coconut milk, divided
2 tablespoons Thai red curry paste (see Notes)
2 teaspoons freshly grated lime zest (green part only; see Notes)
2 tablespoons Asian fish sauce
2 tablespoons firmly packed dark brown sugar
1 1/2 pounds firm fish fillets, such as halibut or tilapia
6 ounces fresh whole spinach leaves
1 cup loosely packed basil
1 cup loosely packed mint leaves
Step 1
1
Bring 6 cups water to a boil in a medium saucepan. Add rice and salt. Cover and reduce heat to low. Cook 15 minutes, then turn off heat and let sit 5 minutes. Fluff with a fork and cover to keep warm until ready to serve.
Step 2
2
Meanwhile, bring 1 in. of water to a boil in a large saucepan. Peel sweet potato and cut into 1/2-in. cubes. Put in a steamer basket over boiling water. Cover and steam until tender, about 10 minutes. Set aside.
Step 3
3
While sweet potato is cooking, spoon about 1/4 cup from top of coconut milk in each can (the thick opaque layer) and put in a 4- to 5-qt. pot or deep sauté pan. Add curry paste and whisk until smoothly blended. Stir mixture over medium heat until nearly dry, 3 to 5 minutes.
Step 4
4
Reduce heat to medium-low and add remaining coconut milk, lime zest, fish sauce, and brown sugar. Simmer 5 minutes.
Step 5
5
Meanwhile, cut fish into 1 1/2-in. cubes. Increase heat to medium; add fish and spinach. Cover and cook until fish is no longer translucent, 5 to 7 minutes.
Step 6
6
Chop basil and mint and stir into stew along with sweet potato cubes. Serve with rice and lime wedges.
Step 7
Step 8
8
Chicken: Substitute boned, skinned breast for the fish. Cut into 1/4- by 1/2- by 2-in. strips to ensure quick cooking.
Step 9
9
Pork: Use tenderloin in place of the fish, trimming fat and cutting meat into 1/4-in.-thick strips.
Step 10
10
Swap the greens: Try green Swiss chard instead of spinach: Thinly slice stems and steam with sweet potato in step 2; thinly slice the leaves and add with fish in step
Step 11
11
Make it bountiful: Add chopped zucchini or other summer squash, green beans, thinly sliced red pepper, or slivered sweet onion to the sweet potato for the last 5 minutes of steaming time.
Step 12
12
Switch the starch: Yukon Gold potatoes work nicely in place of sweet potato and have a similar cooking time.
Nutrition Facts
Servings Makes 6 servings (serving size: 1 1/2 cups of curry and 1 cup of rice)
---
Amount Per Serving

Calories 707

Calories from Fat 17

% Daily Value *

Total Fat 13g

20

%

Saturated Fat 5.5g

28

%

Cholesterol 36mg

12

%

Sodium 965mg

41

%

Total Carbohydrate 113g

38

%

Dietary Fiber 4.9g

20

%

Protein 38g

76

%
---
* Percent Daily Values are based on a 2,000 calorie diet. Your daily value may be higher or lower depending on your calorie needs.