Print Options:
Thai Crabcakes


Yields
Serves 6 (serving size: 2 patties)


Total Time
1 hr

Infuse oil Time
8 hrs

Total Time
9 hrs
These herb-laden crabcakes, by chef-owner Christine Keff of Flying Fish in Seattle, are held together with a hand-whisked lemongrass aioli. For a shortcut aioli, mix 1 cup mayonnaise with the ginger and 1 teaspoon each lemon and lime zest.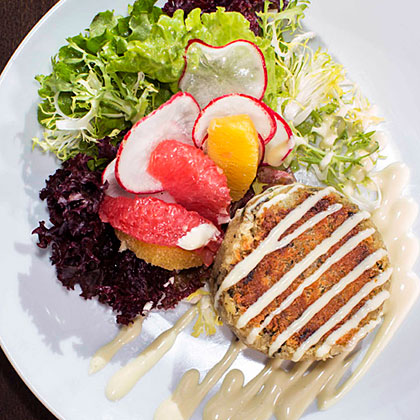 Photo: Ed Anderson
1 1/2 cups canola oil, plus more for frying
3/4 cup chopped lemongrass*
3 tablespoons roughly chopped ginger
1 pound shelled cooked crab
1/2 cup chopped green onion
1/2 cup chopped cilantro leaves
Step 1
1
Mix oil, lemongrass, and ginger; let sit overnight to develop flavors. Strain oil; discard lemongrass and ginger.
Step 2
2
Set a medium bowl on a wet kitchen towel. Add yolks and 1 tsp. water and whisk to blend. Pour in oil, drop by drop at first and whisking constantly, until thickened; then pour in rest of oil in a thin stream and whisk until very thick (add 1 tsp. water if needed to thin). Put 1/3 cup aioli in a serving bowl and set aside.
Step 3
3
Add crab, panko, onion, herbs, and salt to aioli in mixing bowl and stir to combine. Form a thick patty with 1/3 to 1/2 cup crab mixture. Repeat to form 11 more patties.
Step 4
4
Heat 2 tbsp. oil in a large frying pan. Cook patties in batches, turning once and adding more oil as needed, until golden brown, about 8 minutes per batch. Serve with reserved aioli.
Step 5
5
*Peel off the 2 or 3 tough outer layers and chop the tender inner core.
Nutrition Facts
Servings 0
---
Amount Per Serving

Calories 710

Calories from Fat 86

% Daily Value *

Total Fat 69g

107

%

Saturated Fat 5.8g

29

%

Cholesterol 158mg

53

%

Sodium 463mg

20

%

Total Carbohydrate 6.6g

3

%

Dietary Fiber 0.5g

2

%

Protein 19g

38

%
---
* Percent Daily Values are based on a 2,000 calorie diet. Your daily value may be higher or lower depending on your calorie needs.