Print Options:
Thai Chicken and Rice Soup


Yields
Serves 4


Total Time
35 mins
In Thailand, this is served plain for breakfast, using leftover chicken. We've dressed it up with fresh herbs and fried shallots.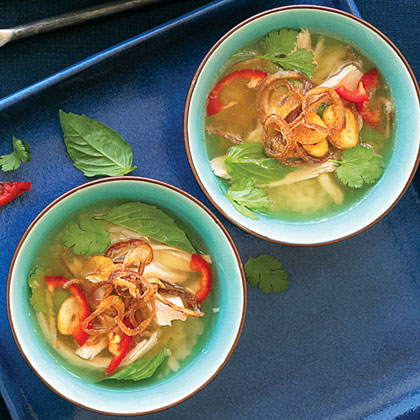 Photo: Annabelle Breakey; Styling: Karen Shinto
1 qt. reduced-sodium chicken broth
2 cups shredded rotisserie chicken
2 tablespoons minced fresh ginger
2 large garlic cloves, thinly sliced
1 large shallot, thinly sliced
1/2 cup Thai basil leaves
1 red jalapeño, halved and sliced
Step 1
1
Put broth in a large pot and bring to a simmer. Add chicken, rice, salt, and ginger; simmer 15 minutes to let flavors develop.
Step 2
2
Heat oil in a small saucepan over high heat until it registers 350° on a deep-fry thermometer. Fry garlic, turning constantly with a slotted spoon, until light golden brown, about 2 minutes. Transfer to paper towels to drain.
Step 3
3
Put shallots in a small bowl and toss with flour to coat and break into rings. Fry shallots in same oil at 350° until golden brown. Drain on fresh paper towels.
Step 4
4
Ladle soup into bowls. Top each with herbs, a sprinkle of fried garlic, a few slivers of fried shallot, and a few slices of jalapeño.
Step 5
5
Note: Nutritional analysis is per 1 1/2-cup serving.
Nutrition Facts
Servings Serves 4
---
Amount Per Serving

Calories 319

Calories from Fat 58

% Daily Value *

Total Fat 21g

33

%

Saturated Fat 2.9g

15

%

Cholesterol 55mg

19

%

Sodium 397mg

17

%

Total Carbohydrate 15g

5

%

Dietary Fiber 0.5g

2

%

Protein 18g

36

%
---
* Percent Daily Values are based on a 2,000 calorie diet. Your daily value may be higher or lower depending on your calorie needs.