Print Options:
Sweet and Sour Shrimp Soup


Yields
Serves 4 (10 cups)


Total Time
50 mins
Typically served as part of a meal in Vietnam, tangy-sweet, intensely aromatic soups like this one balance the savory, salty flavors of other foods on the table. We loved it on its own, too. Mai Pham, chef and owner of Lemon Grass restaurant in Sacramento, California, gave us the recipe.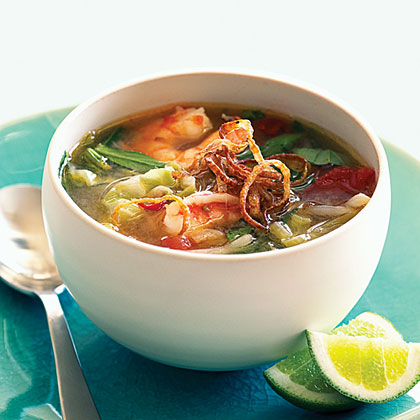 Photo: Annabelle Breakey; Styling: Karen Shinto
2 tablespoons tamarind pulp* (from a 1-lb. brick)
2 shallots, cut into 1/8-in.-thick slices, then dried with paper towels
1/2 teaspoon sambal oelek* or other chili paste
1 qt. reduced-sodium chicken broth
About 1 tbsp. Thai or Vietnamese fish sauce
2 Roma tomatoes, cut into 1-in. cubes
1 cup finely shredded green cabbage
1/4 fresh pineapple, cut into wedges, then into 1/8-in.-wide matchsticks
2/3 pound raw shrimp (26 to 30 per lb.), peeled and deveined
Several sprigs rice paddy herb or cilantro, chopped
15 Thai basil leaves, torn into pieces
2 Thai bird chiles or other small hot chiles, chopped
Step 1
1
Break off tamarind from brick and soak in 1/3 cup warm water 30 minutes, then push through a sieve and discard solids.
Step 2
2
Heat oil in a large, heavy-bottomed pot and fry shallots, gently stirring, until golden and crisp, about 12 minutes. Drain on paper towels. Pour all but about 2 tsp. oil into a heatproof bowl (reserve for another use).
Step 3
3
Cook garlic in pot over medium heat, stirring, 20 seconds. Add chili paste, broth, 1 cup water, the fish sauce, sugar, tamarind liquid, and tomatoes; bring to a boil, covered.
Step 4
4
Simmer, uncovered, 5 minutes. Add cabbage, pineapple, bean sprouts, and shrimp; cook just until shrimp curl. Stir in herbs and chiles; serve with shallots and lime wedges.
Step 5
5
*Find tamarind pulp and sambal oelek in the Asian aisle of well-stocked grocery stores or at Asian markets.
Step 6
6
Note: Nutritional analysis is per serving.
Nutrition Facts
Servings Serves 4 (10 cups)
---
Amount Per Serving

Calories 439

Calories from Fat 57

% Daily Value *

Total Fat 29g

45

%

Saturated Fat 3.2g

16

%

Cholesterol 113mg

38

%

Sodium 886mg

37

%

Total Carbohydrate 28g

10

%

Dietary Fiber 4g

16

%

Protein 23g

46

%
---
* Percent Daily Values are based on a 2,000 calorie diet. Your daily value may be higher or lower depending on your calorie needs.