Print Options:
Sweet Potatoes with Meringue


Yields
Makes 10 to 12 servings

By using meringue instead of marshmallows, Maria Hines adds a sophisticated twist to this holiday favorite. Prep and Cook Time: 1 3/4 hours. Notes: You can make this recipe through step 1 up to a day in advance, covering and chilling the cooked sweet potatoes. Before proceeding with step 2, bring potatoes to room temperature, then reheat in a 375° oven until hot, about 15 minutes.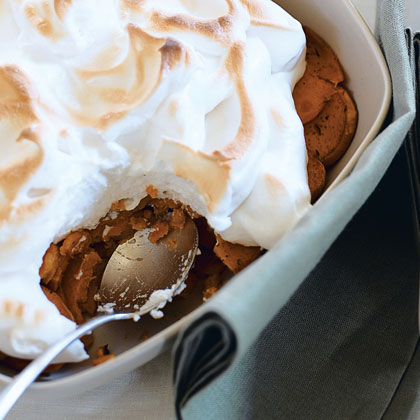 Jim Henkens; Karen Shinto
4 pounds orange sweet potatoes (often labeled "yams")
1/2 teaspoon butter for pan
1/2 teaspoon freshly ground black pepper
1 teaspoon minced fresh thyme
1/4 teaspoon cream of tartar
1/2 teaspoon vanilla extract
Step 1
1
Preheat oven to 375°. Peel sweet potatoes and cut into 1/4-in. slices. Butter an 8- by 8-in. pan and arrange slices in layers, sprinkling with salt, pepper, and thyme as you go. Cover with aluminum foil and bake potatoes until they are tender when pierced with a fork, 45 to 90 minutes.
Step 2
2
Over high heat, bring 1 cup water to a boil in a medium pot. Reduce heat to maintain a simmer. Put egg whites and cream of tartar in a rimmed metal bowl just big enough to fit into pot over water. Set bowl over pot and whisk egg whites constantly until hot but not cooking, 3 to 5 minutes. Take off heat and beat until firm peaks form. Sprinkle in sugar and vanilla and beat into stiff, shiny peaks. Spread over cooked sweet potatoes. Put under a broiler until nicely browned and serve hot.
Step 3
3
Note: Nutritional analysis is per serving.
Nutrition Facts
Servings Makes 10 to 12 servings
---
Amount Per Serving

Calories 155

Calories from Fat 3

% Daily Value *

Total Fat 0.5g

1

%

Saturated Fat 0.2g

1

%

Cholesterol 0.4mg

1

%

Sodium 180mg

8

%

Total Carbohydrate 35g

12

%

Dietary Fiber 3.3g

14

%

Protein 3g

6

%
---
* Percent Daily Values are based on a 2,000 calorie diet. Your daily value may be higher or lower depending on your calorie needs.