Print Options:
Strawberry-Kiwi Pavlova


Yields
Makes 8 servings

Because it contains no flour, the traditional Australian pavlova is an excellent choice for a Passover dessert. It's a big, fancy meringue with a crisp surface and a soft, almost marshmallow-like interior. You can top it with any fruit you like; the classic ones are strawberries, kiwis, bananas, and passionfruit.
Notes: Cornstarch and cream of tartar, ingredients typically used to help thicken and coagulate the egg whites, are omitted here because they're not kosher for Passover. The pavlova is just fine without them, we found. Vanilla extract, because it has alcohol, isn't kosher either; instead you can use vanilla flavoring made under the supervision of a rabbi (see below for more on kosher for Passover guidelines). You can make the pavlovas up to 1 day ahead; store the ungarnished pavlova airtight, at room temperature.
Prep and Cook Time: About 1 hour, 30 minutes, plus 2 hours to cool.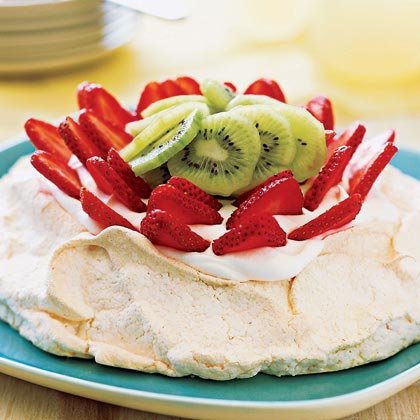 Pornchai Mittongtare
4 large egg whites (1/2 cup) at room temperature
3/4 cup plus 2 tablespoons sugar, divided
1 teaspoon distilled white vinegar or cider vinegar
1 teaspoon vanilla extract or vanilla flavoring (certified kosher for Passover; see Notes)
3 cups sliced strawberries (15 oz.)
1 cup sliced peeled kiwi fruit (8 oz.)
Step 1
1
Preheat oven to 250°. Trace an 8-in. circle on a piece of parchment paper with a pencil. Place it pencil side down on a baking sheet.
Step 2
2
Put egg whites and salt in a large, very clean bowl. Beat with a handheld or stand mixer on high speed (preferably with whisk attachment) until foamy. Gradually add 1 cup sugar, a few tablespoons at a time, beating well after each addition, until stiff, shiny peaks form (4 to 5 minutes). Beat in vinegar and vanilla just until blended.
Step 3
3
Mound meringue onto traced circle on baking sheet, spreading to fill and mounding edges slightly higher than center.
Step 4
4
Bake until meringue is firm and pale golden brown, about 1 1/2 hours. Crack oven door and let pavlova cool completely, about 2 hours more. Carefully remove from baking sheet and transfer to a platter (it's normal for crust to crack a little).
Step 5
5
In a bowl, with a mixer on high speed, beat whipping cream just until soft peaks form. Turn mixer to low and beat in remaining 2 tablespoons sugar.
Step 6
6
Just before serving, top pavlova with whipped cream, strawberries, and sliced kiwi fruit. Cut into 8 wedges.
Step 7
7
Kosher for Passover Guidelines
Step 8
8
Because dietary restrictions vary from congregation to congregation, it's best to ask your local rabbi if you have questions about which ingredients are appropriate for you.
Nutrition Facts
Servings 0
---
Amount Per Serving

Calories 206

Calories from Fat 42

% Daily Value *

Total Fat 9.5g

15

%

Saturated Fat 5.8g

29

%

Cholesterol 33mg

11

%

Sodium 37mg

2

%

Total Carbohydrate 29g

10

%

Dietary Fiber 2.3g

10

%

Protein 2.8g

6

%
---
* Percent Daily Values are based on a 2,000 calorie diet. Your daily value may be higher or lower depending on your calorie needs.