Print Options:
Stracciatella with Broccoli Rabe


Yields
Serves 8 as a first course (makes 9 cups)


Prep Time
35 mins
Broccoli rabe's slight bitterness contrasts nicely with mellow chicken broth in this variation on a classic Roman soup. Stracciatella means "little rags" in Italian, which describes the effect you get when you stir a mixture of eggs, parmesan, and semolina into hot broth.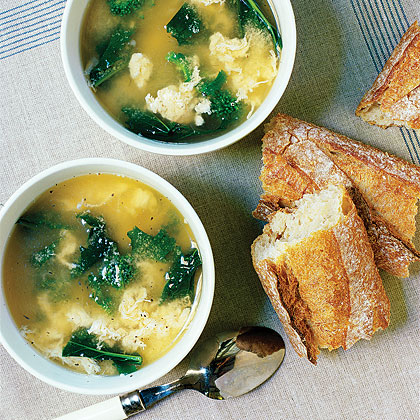 Photo: Lisa Romerein; Styling: William Smith
2 qts. reduced-sodium chicken broth or homemade chicken broth*
2 tablespoons fine semolina
2 ounces parmesan cheese, finely grated (2/3 cup)
12 ounces broccoli rabe (rapini), flowers and greens only
Freshly ground black pepper
Step 1
1
In a medium saucepan, bring broth and garlic to a simmer. Cover and cook 15 to 20 minutes. Discard garlic. Set aside 1/2 cup broth. Taste broth in pan and add salt if you like.
Step 2
2
Beat eggs in a bowl and stir in reserved 1/2 cup broth, the semolina, and parmesan.
Step 3
3
Add broccoli rabe to broth. Simmer until tender but still bright green, 3 to 5 minutes. Slowly pour in egg mixture. Turn off heat and stir back and forth very slowly until little "rags" form. Add pepper to taste.
Step 4
4
*For a recipe, see sunset.com/chickenbroth.
Step 5
5
Note: Nutritional analysis is per serving.
Nutrition Facts
Servings 0
---
Amount Per Serving

Calories 88

Calories from Fat 38

% Daily Value *

Total Fat 3.7g

6

%

Saturated Fat 1.7g

9

%

Cholesterol 84mg

29

%

Sodium 717mg

30

%

Total Carbohydrate 5g

2

%

Dietary Fiber 0.1g

1

%

Protein 9.3g

19

%
---
* Percent Daily Values are based on a 2,000 calorie diet. Your daily value may be higher or lower depending on your calorie needs.