Print Options:
Steak and Watermelon Radish Sandwiches


Yields
Makes 4


Total Time
40 mins
A watermelon radish is, on first glance, a plain greenish-white root. But slice it open and it reveals a stunning fuchsia interior. They're also known as red-meat or beauty-heart radishes, and you can find seeds at Kitazawa Seed Company (kitazawaseed.com). For this sandwich, we took a a classic combination--radishes and butter--and paired them with steak for a juicy, crunchy sandwich.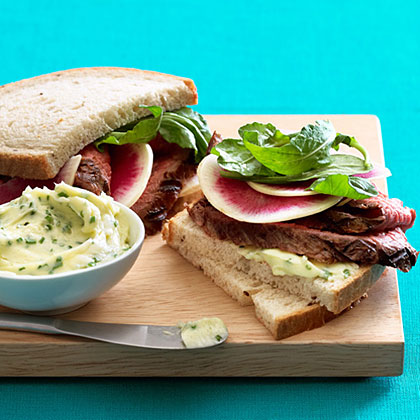 Photo: Annabelle Breakey
4 ounces butter, at room temperature
2 teaspoons chopped chives
8 slices caraway rye bread
2 watermelon radishes, peeled and thinly sliced
Step 1
1
Put oil, garlic, and steak in a medium bowl and turn to coat. Let marinate 20 minutes at room temperature. Mix together butter and chives; set aside.
Step 2
2
Prepare grill for high heat (450° to 550°). Grill meat, turning once, until grill marks appear and meat is cooked the way you like, 8 minutes for medium rare. Cover with foil and let rest 10 minutes, then slice thinly across the grain.
Step 3
3
Spread one side of bread slices with butter mixture. Layer 4 slices with arugula, some sliced steak, and slices of radish. Top with remaining bread slices.
Nutrition Facts
Servings 0
---
Amount Per Serving

Calories 528

Calories from Fat 56

% Daily Value *

Total Fat 34g

53

%

Saturated Fat 18g

90

%

Cholesterol 99mg

33

%

Sodium 580mg

25

%

Total Carbohydrate 28g

10

%

Dietary Fiber 4g

16

%

Protein 29g

58

%
---
* Percent Daily Values are based on a 2,000 calorie diet. Your daily value may be higher or lower depending on your calorie needs.