Print Options:
Spinach, Mushroom, and Fennel Salad with Warm Bacon Vinaigrette


Yields
Serves 8


Total Time
45 mins
"Every hippie menu in the '70s had a spinach and mushroom salad," chef Mark Peel says about this recipe, inspired by a restaurant from his college days in Isla Vista, California. Cut it in half for a smaller group.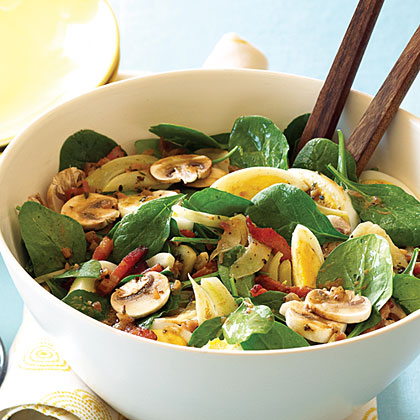 Photo: Annabelle Breakey; Styling: Karen Shinto
3 qts. (7 to 8 oz.) lightly packed baby spinach
3 large eggs, hard-cooked and cut into wedges
5 ounces mushrooms, thinly sliced
5 ounces good-quality thick-cut bacon
2 tablespoons extra-virgin olive oil
1 large head fennel (about 4 in. wide), trimmed and thinly sliced
2 1/2 tablespoons minced shallot
1 1/2 teaspoons roughly chopped fresh thyme leaves
2 1/2 tablespoons sherry vinegar
2 teaspoons Dijon mustard
About 1/2 tsp. kosher salt
About 1/2 tsp. freshly ground black pepper
Step 1
1
Combine spinach, eggs, and mushrooms in a large shallow serving bowl.
Step 2
2
Cut bacon on the diagonal into strips about 1/4 in. thick and 1 1/2 in. long. Cook bacon with 1/3 cup water in a large frying pan over medium heat, stirring occasionally, until water disappears, 8 to 12 minutes. Add oils and cook until bacon is light golden but still supple, 3 to 5 minutes more. Transfer bacon with a slotted spoon to paper towels to drain.
Step 3
3
Add fennel to pan and cook, stirring occasionally, until slightly softened, about 2 minutes. Transfer with a slotted spoon to more paper towels.
Step 4
4
Stir shallot and thyme into fat in pan and cook until softened, about 2 minutes. Remove pan from heat and whisk in vinegar to deglaze pan. Whisk in mustard, 1/2 tsp. each salt and pepper, and 2 tsp. water.
Step 5
5
Add bacon and fennel to salad, scrape dressing on top, and toss gently to coat. Season to taste with more salt and pepper.
Step 6
6
Note: Nutritional analysis is per serving.
Nutrition Facts
Servings Serves 8
---
Amount Per Serving

Calories 201

Calories from Fat 75

% Daily Value *

Total Fat 17g

27

%

Saturated Fat 4g

20

%

Cholesterol 92mg

31

%

Sodium 380mg

16

%

Total Carbohydrate 6.9g

3

%

Dietary Fiber 2.3g

10

%

Protein 5.9g

12

%
---
* Percent Daily Values are based on a 2,000 calorie diet. Your daily value may be higher or lower depending on your calorie needs.