Print Options:
Spicy Watermelon Salad


Yields
Serves 8 (serving size: 1 cup)


Total Time
20 mins
Matthew Lewis, chef and owner of the Where Ya At Matt? food truck in Seattle, makes this side dish in the height of summer, when melons are at their best. The cool, sweet juice of the fruit really hits the spot on a hot day.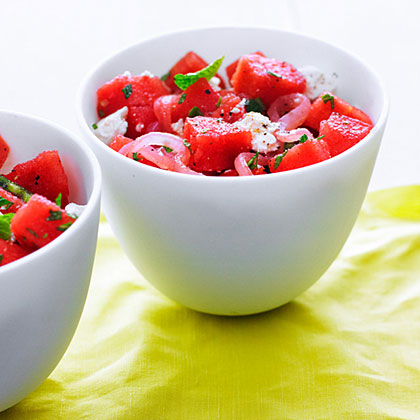 Photo: Iain Bagwell; Styling: Randy Mon
1 white onion, sliced into thin rings
2 qts. (2 lbs.) cubed watermelon
1 jalapeño chile, halved, seeded, and sliced
1 tablespoon chopped fresh basil leaves
1 tablespoon chopped fresh mint leaves
8 ounces feta or cotija cheese, broken into chunks
Step 1
1
Heat vinegar in a small saucepan over high heat until boiling. Add onion and cook, turning as needed, until it's pink and most of vinegar is absorbed, about 5 minutes. Spoon onion out of pan, let cool slightly, then roughly chop.
Step 2
2
Mix remaining ingredients in a large bowl. Add onion and toss just to combine.
Nutrition Facts
Servings 0
---
Amount Per Serving

Calories 134

Calories from Fat 42

% Daily Value *

Total Fat 6.3g

10

%

Saturated Fat 4.3g

22

%

Cholesterol 25mg

9

%

Sodium 413mg

18

%

Total Carbohydrate 15g

5

%

Dietary Fiber 1g

4

%

Protein 5.2g

11

%
---
* Percent Daily Values are based on a 2,000 calorie diet. Your daily value may be higher or lower depending on your calorie needs.