Print Options:
Spiced Oatmeal


Yields
Makes 9 cups mix; 12 servings

To avoid the packaging of instant oatmeal, Lynn Lloyd experimented until she came up with her own mix, a blend of dried fruit, grains, nuts, and mellow spices. She buys 4- or 7-grain hot-cereal flakes in a health food store. You can also use a coarsely ground hot cereal. The uncooked mixture (complete step 1) will keep, stored airtight, up to a month. PREP AND COOK TIME: About 15 minutes.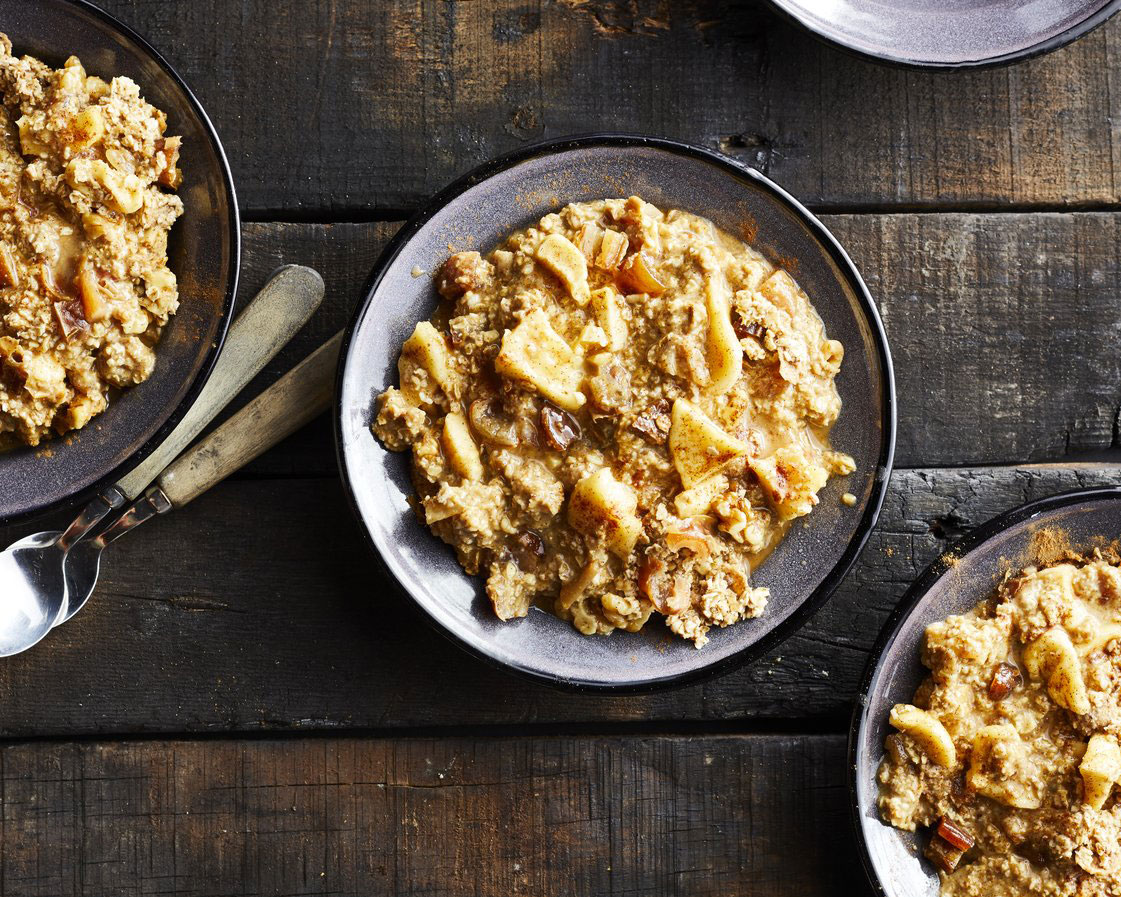 3 cups regular rolled oats
3 cups 4- or 7-grain cereal flakes or coarsely ground hot cereal
1 cup chopped dried dates
1 cup chopped dried apples
1 cup firmly packed brown sugar
2 tablespoons ground cinnamon
1 tablespoon ground ginger
1 teaspoon ground turmeric
Step 1
1
In a large container (at least 2 1/2 qt.) with a lid, combine oats, 4-grain cereal, dates, apples, walnuts, brown sugar, cinnamon, ginger, turmeric, and cloves.
Step 2
2
For each serving, in a 1- to 2-quart pan, bring 1 cup water to a boil over high heat. (Or, in a microwave oven in a 2- to 3-cup bowl or glass measuring cup, heat 1 cup water on full power [100%] until boiling, about 2 minutes.) Stir in 3/4 cup spiced oatmeal mix. Remove from heat, cover, and let stand for 5 to 10 minutes, until it's as thick as you like.
Nutrition Facts
Servings Makes 9 cups mix; 12 servings
---
Amount Per Serving

Calories 445

Calories from Fat 17

% Daily Value *

Total Fat 8.6g

14

%

Saturated Fat 0.8g

4

%

Cholesterol 0.0mg

0

%

Sodium 27mg

2

%

Total Carbohydrate 85g

29

%

Dietary Fiber 5.3g

22

%

Protein 11g

22

%
---
* Percent Daily Values are based on a 2,000 calorie diet. Your daily value may be higher or lower depending on your calorie needs.