Print Options:
Soy and Sesame Kale Chips


Yields
Makes 6 cups (serving size: 1/3 cup)


Total Time
35 mins
The secret to getting these crisp is to avoid crowding the leaves on the baking sheets. Also, keep an eye on them—they can scorch quickly.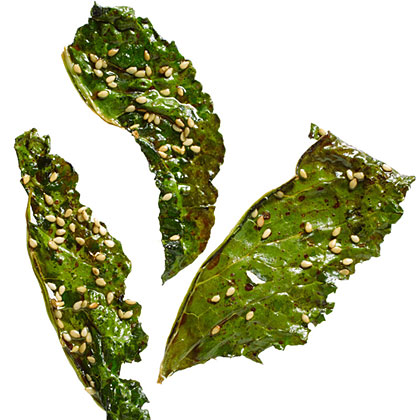 Photo: Annabelle Breakey
7 to 8 oz.* (1 small bunch) Lacinato kale (often sold as "dinosaur kale" or "Tuscan kale")
1 1/2 tablespoons olive oil
1 tablespoon sesame seeds
Step 1
1
Preheat oven to 300°. Rinse kale and thoroughly blot dry with a kitchen towel. Tear leaves from ribs; discard ribs. Tear leaves into 4-in. pieces. Pour oil and soy sauce into a large bowl, add kale, and toss to coat evenly.
Step 2
2
Arrange leaves in a single layer on 2 rimmed baking sheets. Bake, switching pan positions after 13 minutes. Sprinkle with sesame seeds and bake until leaves are crisp but not browned, 5 to 7 minutes more.
Step 3
3
*You can use larger bunches, but you'll need more oil and seasonings and maybe a third pan.
Nutrition Facts
Servings Makes 6 cups (serving size: 1/3 cup)
---
Amount Per Serving

Calories 18

Calories from Fat 72

% Daily Value *

Total Fat 1.4g

3

%

Saturated Fat 0.2g

1

%

Cholesterol 0.0mg

0

%

Sodium 54mg

3

%

Total Carbohydrate 1g

1

%

Dietary Fiber 0.2g

1

%

Protein 0.2g

1

%
---
* Percent Daily Values are based on a 2,000 calorie diet. Your daily value may be higher or lower depending on your calorie needs.