Print Options:
Smoked Trout


Yields
Makes 3 main-dish or 9 appetizer servings

For the most intense smoky flavor and deepest gold color, use a charcoal barbecue. To present smoked trout as an appetizer, serve on thin triangles of Westphalian-style pumpernickel bread with sour cream, chopped red onion, and lemon wedges. For a salad, combine chunks of smoked trout, hot or cold, with green salad mix and a
vinaigrette dressing
. As a main dish, serve trout hot with boiled small thin-skinned potatoes, melted butter, and lemon wedges. Chill smoked trout airtight up to 1 week or freeze up to 1 month.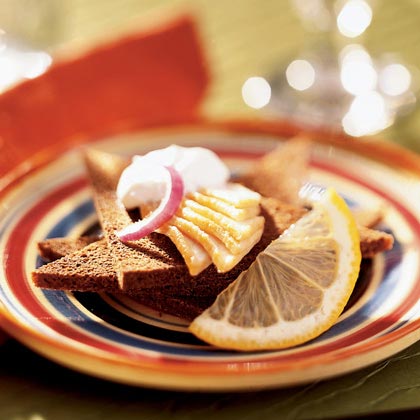 James Carrier
3 cleaned, boned whole trout, heads and tails removed (8 to 10 oz. each)
1 teaspoon grated lemon peel
1/2 teaspoon fresh thyme leaves or dried thyme
2 cups hickory wood chips
About 1 tablespoon salad oil
Step 1
1
Rinse trout and pat dry. In a small bowl, mix sugar, salt, lemon peel, and thyme; rub evenly over flesh sides of fish. Stack trout in a 9- by 13-inch baking dish. Cover and chill to cure at least 1 hour or up to 3 hours.
Step 2
2
In a bowl, soak wood chips in 2 quarts of water for 30 minutes. Drain.
Step 3
3
If using a charcoal grill, ignite 60 charcoal briquets on firegrate. When dotted with gray ash, in 20 to 25 minutes, push half the coals to each side of grate. Sprinkle half the wet wood chips on each mound of coals. Position grill about 6 inches above grate.
Step 4
4
If using a gas grill, turn heat to high. Put wet wood chips in smoke box or foil pan directly on heat. Close lid and heat for about 10 minutes. Adjust heat for indirect grilling (no heat down the center).
Step 5
5
Rinse fish well and pat dry. Coat skin sides of fish with oil and lay fish, skin down, on grill, not over heat source. Cover barbecue; open vents for charcoal. Cook until fish are opaque but still moist-looking in center of thickest part (cut to test), 8 to 10 minutes. With a wide spatula, transfer fish to a platter.
Step 6
6
Nutritional analysis per main-dish serving
Nutrition Facts
Servings 0
---
Amount Per Serving

Calories 384

Calories from Fat 47

% Daily Value *

Total Fat 20g

31

%

Saturated Fat 3.2g

16

%

Cholesterol 132mg

44

%

Sodium 699mg

30

%

Total Carbohydrate 2.2g

1

%

Dietary Fiber 0.0g

0

%

Protein 47g

94

%
---
* Percent Daily Values are based on a 2,000 calorie diet. Your daily value may be higher or lower depending on your calorie needs.