Print Options:
Shrimp and Spicy Mango Sauté


Yields
Serves 4


Total Time
20 mins
When you don't have much time to cook, the right condiment can add layers of flavor in a flash. Oil-packed Indian mango relish (not chutney, which is too sweet) combines earthy turmeric and fenugreek with the tang of mustard and green mango. Find it in the international aisle of your grocery store.
Wine pairing: A bright but aromatic white like Maryhill Winery 2014 Viognier (Columbia Valley; $18). The fruit flavors in the wine lean toward mango with this pairing. It's a mouth-filling, sweetly aromatic wine that's terrific with shrimp, and its crisp acidity works well with the pickled fruit.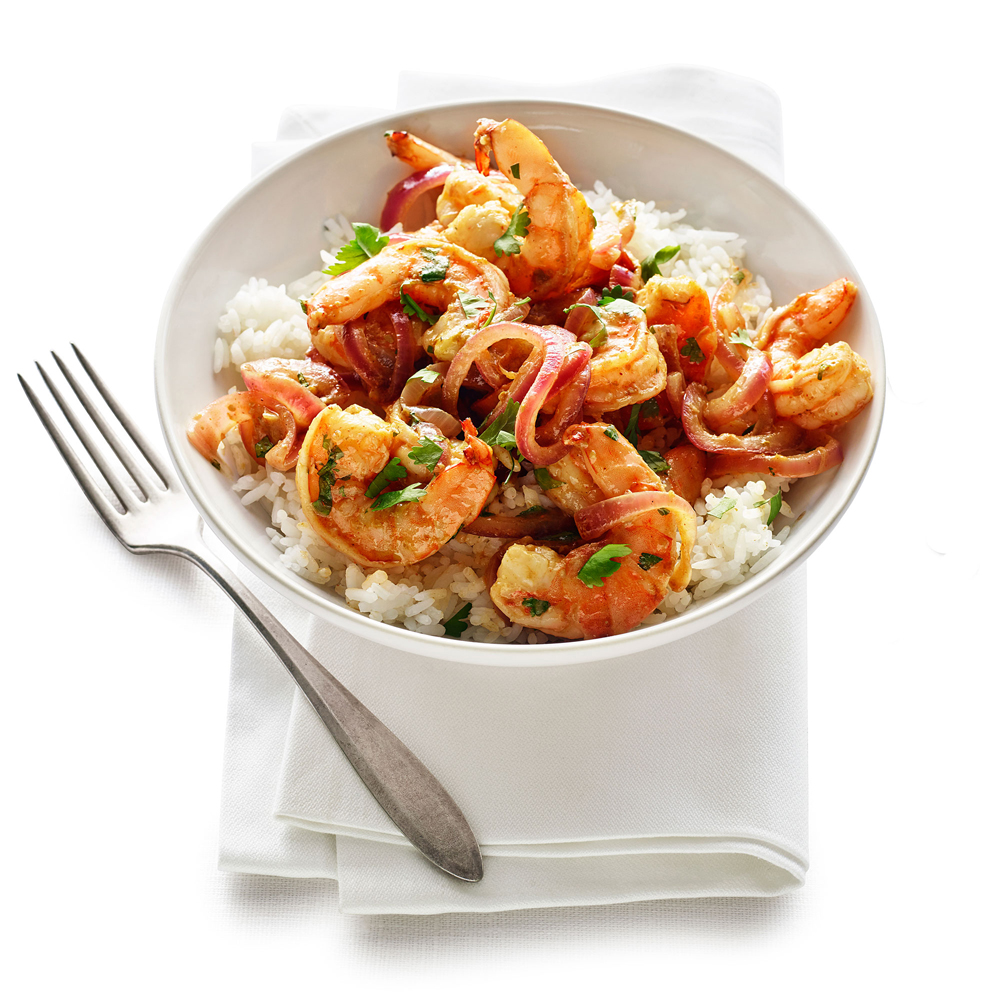 Photo: Annabelle Breakey; Styling: Robyn Valarik
1 large red onion, thinly sliced
1/4 cup oil-packed Indian mango relish, such as Patak's, plus more for the table
1 1/2 pounds peeled deveined medium shrimp
1 to 1 1/2 tbsp. lime juice
About 1/3 cup coarsely chopped cilantro, divided
Hot cooked basmati or jasmine rice
Step 1
Step 2
2
Stir in mango relish. Add shrimp and stir to coat thoroughly. Lower the heat to medium, cover, and cook just until the shrimp curl tightly, 3 to 4 minutes.
Step 3
3
Remove from heat; stir in lime juice and most of cilantro. Serve over rice, topped with remaining cilantro and more mango relish on the side.
Nutrition Facts
Servings 0
---
Amount Per Serving

Calories 298

Calories from Fat 39

% Daily Value *

Total Fat 13g

20

%

Saturated Fat 1.1g

6

%

Cholesterol 259mg

87

%

Sodium 733mg

31

%

Total Carbohydrate 7.5g

3

%

Dietary Fiber 1.7g

7

%

Protein 36g

72

%
---
* Percent Daily Values are based on a 2,000 calorie diet. Your daily value may be higher or lower depending on your calorie needs.