Print Options:
Shot-and-a-Beer Pork Stew


Yields
Serves 6


Total Time
3 hrs 45 mins
Time: 3 3/4 hours. Tacolicious, a taco stand at San Francisco's Thursday Ferry Plaza Farmers Market, serves this braised pork in tacos, but owner Joe Hargrave also makes it at home as a fall stew. The chiles fall apart as the dish cooks, giving the meat a mellow, earthy spiciness.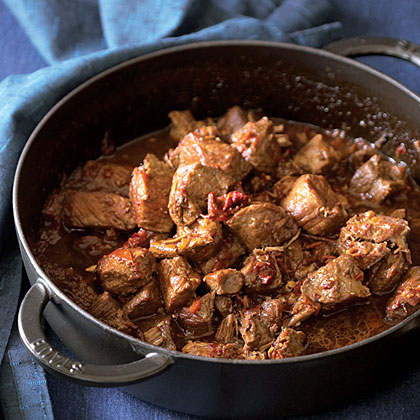 Photo: Annabelle Breakey; Styling: Randy Mon
2 large dried chipotle chiles*
2 large dried ancho chiles*
12 ounces Mexican lager such as Tecate
1/4 cup white (silver) tequila
3 1/2 pounds pork shoulder, cut into 2-in. cubes
1 tablespoon vegetable oil
3/4 pound tomatoes, chopped
2 teaspoons dried Mexican oregano*
Accompaniments: cabbage and cilantro slaw with lime vinaigrette, lime wedges, crumbled cotija cheese, and tortilla chips
Step 1
1
Preheat oven to 350°. Wipe chiles clean with a damp cloth. In a dry, heavy saucepan over medium heat, toast chiles until fragrant and puffy, turning occasionally to keep them from burning, 3 to 5 minutes. Let cool slightly, then remove stems, seeds, and membranes. Pour beer and tequila over chiles to soften.
Step 2
2
Meanwhile, season pork with salt. Heat oil in a heavy, large ovenproof pot such as a Dutch oven over medium-high heat. Brown half the pork at a time, turning as needed, 8 to 10 minutes per batch. Transfer browned pork to a bowl.
Step 3
3
Add onion and garlic to pot; cook until soft, stirring often, 5 minutes. Stir in beer mixture, tomatoes, oregano, cumin, and pork. Add water if needed to barely cover pork. Bring to a boil over high heat; cover.
Step 4
4
Bake stew until pork is falling-apart tender, 3 hours. Skim fat. Ladle stew into bowls and serve with accompaniments.
Step 5
5
*Find in the Latino foods aisle or spice aisle of a supermarket, or at a Latino market.
Step 6
6
Make ahead: Chill, covered, up to 2 days.
Step 7
7
Note: Nutritional analysis is per serving.
Nutrition Facts
Servings 0
---
Amount Per Serving

Calories 618

Calories from Fat 58

% Daily Value *

Total Fat 40g

62

%

Saturated Fat 14g

70

%

Cholesterol 186mg

62

%

Sodium 517mg

22

%

Total Carbohydrate 15g

5

%

Dietary Fiber 4.4g

18

%

Protein 50g

100

%
---
* Percent Daily Values are based on a 2,000 calorie diet. Your daily value may be higher or lower depending on your calorie needs.