Print Options:
Shaking Beef


Total Time
2 hrs 45 mins
Welcome to Sunset Suppers, a series of cooking videos shot by chefs and food notables in the first weeks of self-quarantine. These days everyone's living, working, and cooking differently. That includes us here at Sunset—where our homes have become our offices/studios/test kitchens—and it includes chefs. We asked our favorite chefs in the West and beyond to turn the camera on themselves and share their tips on how to cook easy, nourishing, and comforting food with the limitations of what people have on hand. Similarly we'd like to know what and how you're cooking, so please share your hacks and home cook victories on social media and tag it #sunsetsuppers!
In Vietnam, this classic–named for how the meat is tossed in the pan–is usually made with tough, overcooked beef cuts. For his version, which has been on the Slanted Door's menu since 1995, Charles uses grass-fed filet mignon. On an electric stove, use a flat-bottomed wok or pan so the cooking surface gets as hot as possible. On gas, use a wok ring to nestle the wok down into the flames.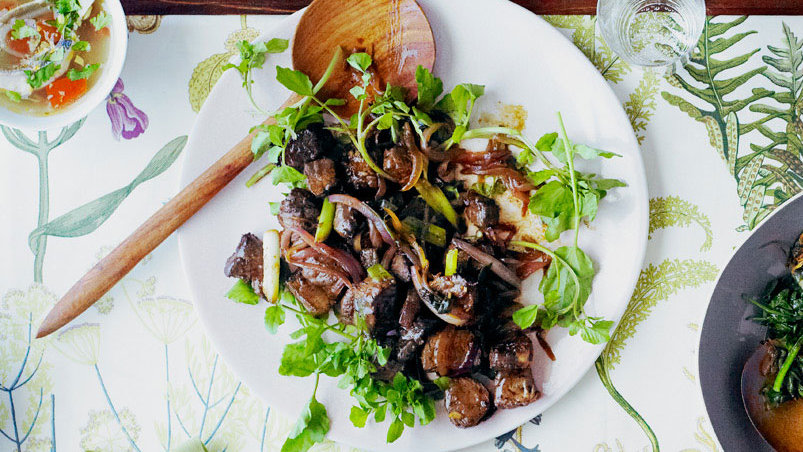 1 1/2 pounds filet mignon, trimmed of excess fat and cut into 1-in. cubes
1 tablespoon plus 1 tsp. sugar, divided
7 tablespoons canola oil, divided
2 tablespoons rice vinegar
2 teaspoons dark soy sauce*
1/2 teaspoon Vietnamese or Thai fish sauce
1 cup thinly sliced red onion
3 green onions, ends trimmed, onions cut into 1-in. lengths
1 tablespoon finely chopped garlic
1 tablespoon unsalted butter
1 bunch watercress, tough stems removed
Step 1
1
Mix beef with 1 tsp. sugar, the salt, pepper, and 1 tbsp. oil in a bowl. Let marinate at room temperature 2 hours.
Step 2
2
Whisk together remaining 1 tbsp. sugar, the vinegar, mirin, soy sauces, and fish sauce until sugar has dissolved.
Step 3
3
Divide meat into 2 equal portions. Heat a large wok or a large (not nonstick) frying pan over high heat until very hot but not smoking. The metal will have a matte look and a drop of water flicked onto its surface should evaporate on contact.
Step 4
4
Add 3 tbsp. oil to wok and heat until shimmering but not smoking. Add half the beef in a single layer and sear until a brown crust forms underneath, about 30 seconds. Flip cubes and cook 30 seconds on second side.
Step 5
5
Add half each of red and green onions and cook, stirring, about 30 seconds. Add half the soy sauce mixture and shake wok to coat beef. Add half each of garlic and butter and shake wok to distribute evenly. Transfer to a bowl and keep warm.
Step 6
6
Wipe wok clean and return to high heat. Repeat steps 4 and 5 with remaining 3 tbsp. oil, beef, red and green onions, sauce mixture, garlic, and butter.
Step 7
7
Arrange watercress on a platter; top with beef and vegetables. Serve with sauce.
Step 8
8
*Dark soy sauce is thicker, darker, and less salty than regular soy; find it at Asian markets and well-stocked grocery stores.
Nutrition Facts
---
Amount Per Serving

Calories 489

Calories from Fat 72

% Daily Value *

Total Fat 39g

60

%

Saturated Fat 11g

56

%

Cholesterol 80mg

27

%

Sodium 652mg

28

%

Total Carbohydrate 8.7g

3

%

Dietary Fiber 0.8g

4

%

Protein 23g

46

%
---
* Percent Daily Values are based on a 2,000 calorie diet. Your daily value may be higher or lower depending on your calorie needs.