Print Options:
Salted Chocolate Tart


Yields
Makes 16 servings


Prep & Cook Time
1 hr 30 mins

Cool Time
1 hr 30 mins

Total Time
3 hrs
We prefer Maldon sea salt for sprinkling onto this chocolate tart. Its large flakes look striking against the glossy chocolate surface, and its crunchy texture contrasts beautifully with the smooth, velvety filling.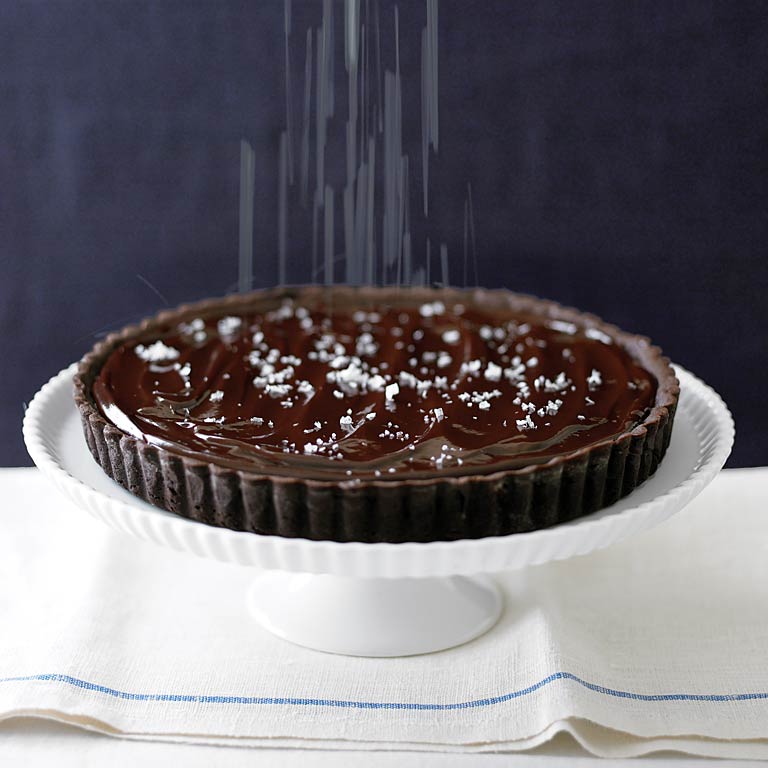 Photo: Leigh Beisch; Styling: Dan Becker
6 tablespoons unsalted butter, softened
1 1/4 cups all-purpose flour, plus more for rolling
1/4 cup unsweetened cocoa powder (not Dutch-processed)
8 ounces extra-bittersweet top-quality chocolate, such as Callebaut or Valrhona, chopped
1/3 cup plus 1 tbsp. sugar
4 ounces extra-bittersweet top-quality chocolate, such as Callebaut or Valrhona, chopped
2 tablespoons light corn syrup
1/3 cup heavy whipping cream
2 tablespoons unsalted butter, softened
Maldon sea salt for sprinkling (see Notes)
Step 1
1
For the crust: In a stand mixer fitted with a paddle attachment, beat butter and sugar on medium speed until smooth. In a separate bowl, sift together flour and cocoa powder, then add to butter mixture and mix until combined. Add yolks and mix on low speed just until dough comes together. If small pieces remain, knead dough to blend them in. Form dough into a disk and wrap in plastic wrap. Chill for at least 1 hour and up to 3 days.
Step 2
2
Unwrap dough and set on a lightly floured work surface. With short strokes from center outward, roll into a 12-in. circle. Transfer dough to a 9 1/2-in tart pan and, using your thumb, press into sides and bottom corner. Trim dough flush with top edge. Line shell with parchment paper, completely fill with dried beans or pie weights, and chill at least 30 minutes. Meanwhile, preheat oven to 350°.
Step 3
3
Bake dough 10 minutes, then remove parchment and beans and return to oven until dough looks dry, about 5 minutes. Set on a rack to cool slightly.
Step 4
4
For the filling: Put chocolate in a medium-size heatproof bowl. In a medium saucepan, combine butter, sugar, and coffee and bring to a boil over medium heat. Pour hot liquid over chocolate and let sit 3 to 4 minutes, then gently stir until smooth. Break eggs into a large bowl and slowly pour in warm chocolate mixture, whisking constantly until incorporated.
Step 5
5
Pour warm filling into still-warm tart shell. Bake until filling has risen slightly, appears dry on surface, and seems firm when shaken slightly, about 10 minutes. Set on a rack and let cool completely.
Step 6
6
For the glaze: Put chocolate and corn syrup in a medium bowl. In a microwave-safe container, heat cream to boiling; pour over chocolate. Add butter and stir slowly until smooth, working in one direction to prevent air bubbles from forming (if butter doesn't melt completely, microwave in 5-second intervals to warm slightly).
Step 7
7
Pour glaze onto center of tart and use a small spatula to push glaze to edges. Let sit at least 15 minutes to set up before slicing. Serve with Maldon salt for sprinkling.
Step 8
8
Note: Nutritional analysis is per serving.
Nutrition Facts
Servings Makes 16 servings
---
Amount Per Serving

Calories 372

Calories from Fat 65

% Daily Value *

Total Fat 27g

42

%

Saturated Fat 15g

75

%

Cholesterol 165mg

56

%

Sodium 27mg

2

%

Total Carbohydrate 33g

11

%

Dietary Fiber 1.2g

5

%

Protein 5.4g

11

%
---
* Percent Daily Values are based on a 2,000 calorie diet. Your daily value may be higher or lower depending on your calorie needs.