Print Options:
Salt-baked Striped Bass with Herb Lemon Chile Sauce (Branzino Sotto Sale con Salmoriglio)


Yields
Makes 8 servings as part of this menu; 4 servings as a stand-alone entrée (recipe can easily be doubled)


Total Time
1 hr 30 mins
You might expect a whole fish baked in salt to taste salty, but it doesn't. It's exceptionally moist, because the salt seals in juices. Prep and Cook Time: about 1 1/2 hours. Notes: Order 3-lb. bass a few days ahead from your fishmonger, since they're a bit bigger than average. Smaller fish (at least 2 lbs. each) are fine, but you may need to throw in one extra to make enough to go around. Also, not all kosher salts are created equal; we like flaky Diamond Crystal kosher, which is also more voluminous than other kosher salts and therefore covers the fish better. If you're using another brand, you may need as little as half the amount of water called for here.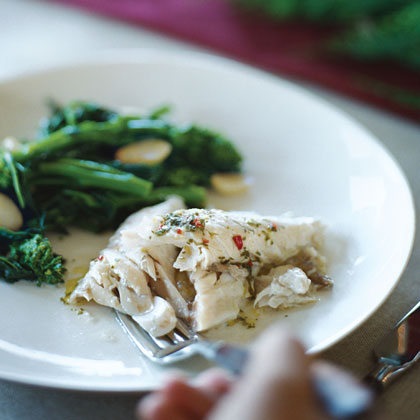 Lisa Romerein
2 whole fresh striped bass (each about 3 lbs.; see Notes), cleaned and scaled, fins trimmed and tails trimmed to 1 in.
6 to 8 sprigs fresh thyme
6 to 8 sprigs fresh oregano
6 to 8 sprigs flat-leaf parsley
4 medium garlic cloves, peeled and sliced
1 1/2 tablespoons extra-virgin olive oil
6 pounds Diamond Crystal kosher salt (see Notes)
3/4 cup extra-virgin olive oil
1/2 cup freshly squeezed lemon juice
1 large garlic clove, minced
1 1/2 tablespoons finely chopped fresh oregano
1 1/2 tablespoons finely chopped flat-leaf parsley
2 teaspoons Diamond Crystal kosher salt
2 small fresh or dried hot red chiles, such as peperoncini or Thai, minced or sliced
Step 1
1
Preheat oven to 425°. Move rack to middle of oven. Stuff cavity of each fish with herb sprigs and slices of lemon and garlic, dividing evenly. Coat fish with olive oil.
Step 2
2
In a very large bowl, combine salt with egg whites and 2 cups water. Mix with your hands, then add in another 2 cups water, mixing, until the salt feels like moist sand (you may need a little more water).
Step 3
3
Line a large rimmed baking sheet with 1/2 in. of the salt mixture. Arrange the two fish nose to tail on the salt, leaving at least 1 1/2 in. space between them. Cover each with an even 1/2-in. layer of salt mixture, patting to adhere (no part of fish should remain exposed) and leaving a crevice between the fish so they cook evenly. Bake 30 minutes, or until salt crust is very pale gold and hard to the touch, like ceramic.
Step 4
4
Meanwhile, make sauce: Whisk all ingredients in a bowl. Set aside for at least 30 minutes to allow the flavors to marry (but not more than 2 hours ahead or the herbs will lose their fresh taste).
Step 5
5
Working with one fish at a time, tap hard salt crust with a small hammer or meat mallet to crack it. Lift off chunks of crust and brush any remaining salt off fish (a pastry brush is useful here).
Step 6
6
With a large fork, carefully peel back skin, starting at spine and working toward belly. Lift off chunks of meat with fork and transfer to a platter. Lift out skeleton with the head attached and discard. With fork, transfer the rest of the meat to the platter.
Step 7
7
Repeat dismantling of salt crust and filleting with remaining fish, adding meat to the platter. Serve with dressing spooned over top and more served on the side.
Step 8
8
Note: Nutritional analysis is per 1/2 fillet with 1 Tbsp. sauce.
Nutrition Facts
Servings Makes 8 servings as part of this menu; 4 servings as a stand-alone entrée (recipe can easily be doubled)
---
Amount Per Serving

Calories 231

Calories from Fat 55

% Daily Value *

Total Fat 14g

22

%

Saturated Fat 2.2g

12

%

Cholesterol 54mg

18

%

Sodium 776mg

33

%

Total Carbohydrate 2g

1

%

Dietary Fiber 0.2g

1

%

Protein 25g

50

%
---
* Percent Daily Values are based on a 2,000 calorie diet. Your daily value may be higher or lower depending on your calorie needs.