Print Options:
Root Vegetable Smash


Yields
Serves 6 to 8 (makes 6 cups)


Total Time
45 mins
This mixed root smash, more earthy and complex than mashed potatoes alone, was inspired by the overflowing winter CSA boxes that Piper Davis, co-owner and cuisine director at Grand Central Bakery in Portland and Seattle, got each week from Portland's 47th Avenue Farms. It's excellent with her Cider-Braised Pork Shoulder.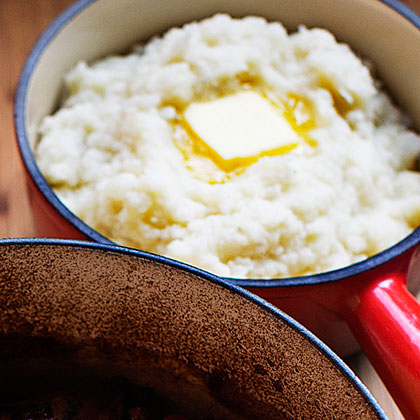 Photo: Thomas J. Story
2 large russet potatoes (1 3/4 lbs. total)
1 1/2 pounds mixed root vegetables such as parsnips, rutabagas, turnips, kohlrabi, and parsley root
About 1 1/2 tsp. kosher salt, divided
1/4 cup each butter and whipping cream
Step 1
1
Peel vegetables, rinse, and cut into 2-in. chunks. Put in a large saucepan with 1 tsp. salt and water to cover. Bring to a boil over high heat, then reduce heat and simmer until tender, 15 to 25 minutes. Drain.
Step 2
2
Return vegetables to pot with remaining 1/2 tsp. salt, the butter, and cream. Mash (some lumps are okay). Season with salt to taste.
Nutrition Facts
Servings 0
---
Amount Per Serving

Calories 194

Calories from Fat 32

% Daily Value *

Total Fat 6.9g

11

%

Saturated Fat 4.2g

22

%

Cholesterol 18mg

6

%

Sodium 356mg

15

%

Total Carbohydrate 30g

10

%

Dietary Fiber 4.4g

18

%

Protein 3.9g

8

%
---
* Percent Daily Values are based on a 2,000 calorie diet. Your daily value may be higher or lower depending on your calorie needs.