Print Options:
Root Vegetable Gratin


Yields
Serves 10 to 12


Total Time
2 hrs
We love the earthy, sweet flavor of the root vegetable combination in this cheesy gratin, but you could also go with the classic all-potato version (use 5 large potatoes, about 3 1/2 lbs. total, in place of the celery root and parsnips).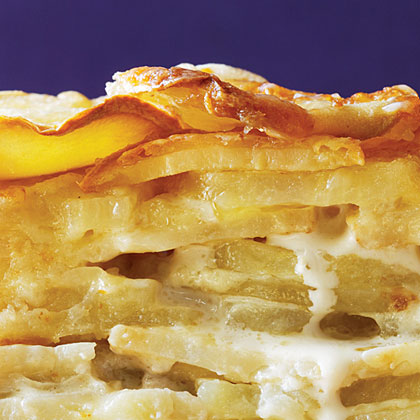 Photo: Annabelle Breakey; Styling: Robyn Valarik
1/2 teaspoon freshly ground nutmeg
3 large russet potatoes (about 2 lbs.), peeled and thinly sliced
2 medium parsnips (about 10 oz.), peeled, trimmed, and thinly sliced
1 large shallot, thinly sliced
1 medium celery root (about 15 oz.), peeled, halved, and thinly sliced
8 ounces Italian-style fontina cheese, coarsely shredded
Step 1
1
Preheat oven to 325°. In a small saucepan, bring cream, salt, and nutmeg to a simmer. Remove from heat and set aside.
Step 2
2
Lay half the potatoes evenly in a shallow 2 1/2-qt. baking dish, followed by half the parsnips and all the shallot and celery root. Top with half the cheese. Add remaining parsnips, then remaining potatoes. Pour warm cream over vegetables. Sprinkle evenly with remaining cheese.
Step 3
3
Bake until bubbling, golden brown, and tender when pierced, about 1 1/4 hours. Let sit 10 minutes before serving.
Step 4
4
Make ahead: Up to 2 days; reheat at 325° until center is warm, about 30 minutes.
Step 5
5
Note: Nutritional analysis is per serving.
Nutrition Facts
Servings 0
---
Amount Per Serving

Calories 299

Calories from Fat 63

% Daily Value *

Total Fat 21g

33

%

Saturated Fat 13g

65

%

Cholesterol 77mg

26

%

Sodium 362mg

16

%

Total Carbohydrate 22g

8

%

Dietary Fiber 2.8g

12

%

Protein 7.6g

16

%
---
* Percent Daily Values are based on a 2,000 calorie diet. Your daily value may be higher or lower depending on your calorie needs.