Print Options:
Rooibos Butternut "Pizzettas"


Yields
Makes about 15


Total Time
1 hr
Think of these roasted squash rounds as tiny pizzas: You simply bake them, and add any topping you like or have on hand. In this version, Bay Area cookbook author Eric Gower melts butter and fruity rooibos tea leaves, creating a rich and floral infusion to brush on the pizzettas; then he finishes them with a mix of tea and salt. Rooibos, derived from a South African plant, is not a true tea but rather an herbal infusion. It sometimes goes by the name "red tea."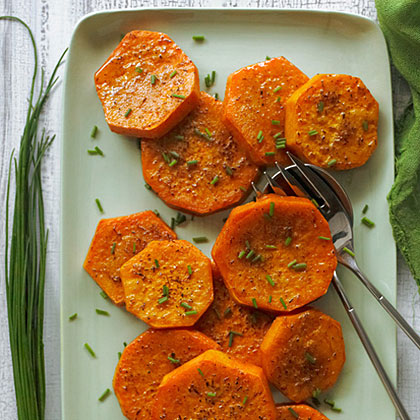 Photo: Iain Bagwell; Styling: Emma Star Jensen
3 tablespoons unsalted butter
1 tablespoon plus 1 1/2 tsp. rooibos tea leaves
2 medium-large butternut squashes
Drizzle of olive oil for baking sheets
2 tablespoons chopped fresh chives
Step 1
1
Preheat oven to 425°. Heat a small frying pan over medium heat and add butter and 1 tbsp. tea. When butter foams, remove from heat, cover, and let infuse 10 minutes. Strain butter through a fine sieve; discard tea.
Step 2
2
Meanwhile, using a large, sturdy, sharp knife, cut off stems and seedless "necks" of squashes (save seeded parts for another use). Stand each neck on a flat side and slice peel off with 7 or 8 cuts, leaving a kind of octagonal shape. Cut necks into 1/2-in. slices. Lightly oil 2 baking sheets and place squash, slightly separated, on sheets.
Step 3
3
Pulverize remaining 1 1/2 tsp. tea leaves (if already fine, skip this step). Mix with salt.
Step 4
4
Brush infused butter onto tops of squash slices, then season with pepper and rooibos salt. Bake until very soft, about 25 minutes. Transfer to a platter and sprinkle with chives.
Nutrition Facts
Servings Makes about 15
---
Amount Per Serving

Calories 59

Calories from Fat 44

% Daily Value *

Total Fat 3g

5

%

Saturated Fat 1.6g

8

%

Cholesterol 6.1mg

3

%

Sodium 105mg

5

%

Total Carbohydrate 8.6g

3

%

Dietary Fiber 2.1g

9

%

Protein 0.8g

2

%
---
* Percent Daily Values are based on a 2,000 calorie diet. Your daily value may be higher or lower depending on your calorie needs.