Print Options:
Romesco Sauce


Yields
Makes about 2 1/2 cups

Notes: Linda Carucci, a cooking teacher, chef, and culinary consultant (www.lckitchen.com) from Oakland, California, makes this sauce with a Spanish smoked sweet paprika and cayenne. Taste sauce before adding the cayenne to see if you want more heat. You can use regular paprika, but its flavor won't be as distinctive. You can make the sauce up to 2 days ahead; cover and chill. Alternately, freeze it up to 1 month.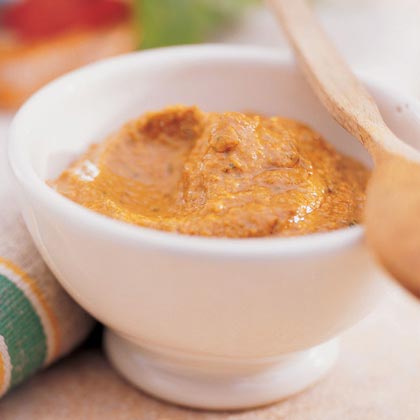 James Carrier
1 cup slivered almonds (4 oz.)
4 ounces Italian or sweet French bread
1 cup lightly packed fresh basil leaves, rinsed and drained
1 jar (7 1/4 oz.) or 1 cup peeled roasted red peppers
2 tablespoons tomato paste
2 tablespoons fresh lemon juice
About 2 tablespoons sherry vinegar or red wine vinegar
2 tablespoons brandy (optional)
2 tablespoons Spanish or other paprika (see notes)
1 tablespoon minced garlic
About 1/2 teaspoon kosher salt
2/3 cup extra-virgin olive oil
About 1/2 teaspoon cayenne (if using sweet paprika; see notes)
Step 1
1
Spread almonds in a 10- by 15-inch baking pan. Bake in a 350° regular or convection oven, shaking pan occasionally, until golden, 8 to 10 minutes.
Step 2
2
Trim crusts from bread; reserve for another use or discard. Cut bread into 1-inch chunks; you should have about 3 cups.
Step 3
3
In a food processor, whirl nuts until finely chopped. Add bread, basil, red peppers, tomato paste, lemon juice, 2 tablespoons vinegar, brandy (if desired), paprika, garlic, and 1/2 teaspoon salt; whirl until peppers are puréed.
Step 4
4
With motor running, gradually add 1/3 cup clam juice and whirl until incorporated, then gradually add olive oil; process until smooth. Taste, and add cayenne and more salt and vinegar if desired. If thicker than desired, whirl in a little more clam juice. Scrape into a bowl. Let stand about 20 minutes for flavors to blend before serving.
Step 5
5
Nutritional analysis per tablespoon.
Nutrition Facts
Servings Makes about 2 1/2 cups
---
Amount Per Serving

Calories 61

Calories from Fat 80

% Daily Value *

Total Fat 5.4g

9

%

Saturated Fat 0.7g

4

%

Cholesterol 0.0mg

0

%

Sodium 59mg

3

%

Total Carbohydrate 3g

1

%

Dietary Fiber 0.4g

2

%

Protein 1g

2

%
---
* Percent Daily Values are based on a 2,000 calorie diet. Your daily value may be higher or lower depending on your calorie needs.