Print Options:
Rocky Road Chocolate Chia Pudding


Yields
Serves 4 (makes 2 cups)


Prep Time
5 mins

Camp Time
25 mins

Total Time
30 mins
Chia seeds give this no-cook dessert a silky, lightly chewy texture like tapioca pudding. The recipe comes from the outdoor cooking experts behind the blog Dirty Gourmet, dirtygourmet.com.
GEAR 2-qt. backpacking saucepan, Nalgene bottle (for measuring), spork, backpacking ladle, small grater (or small cutting board and knife)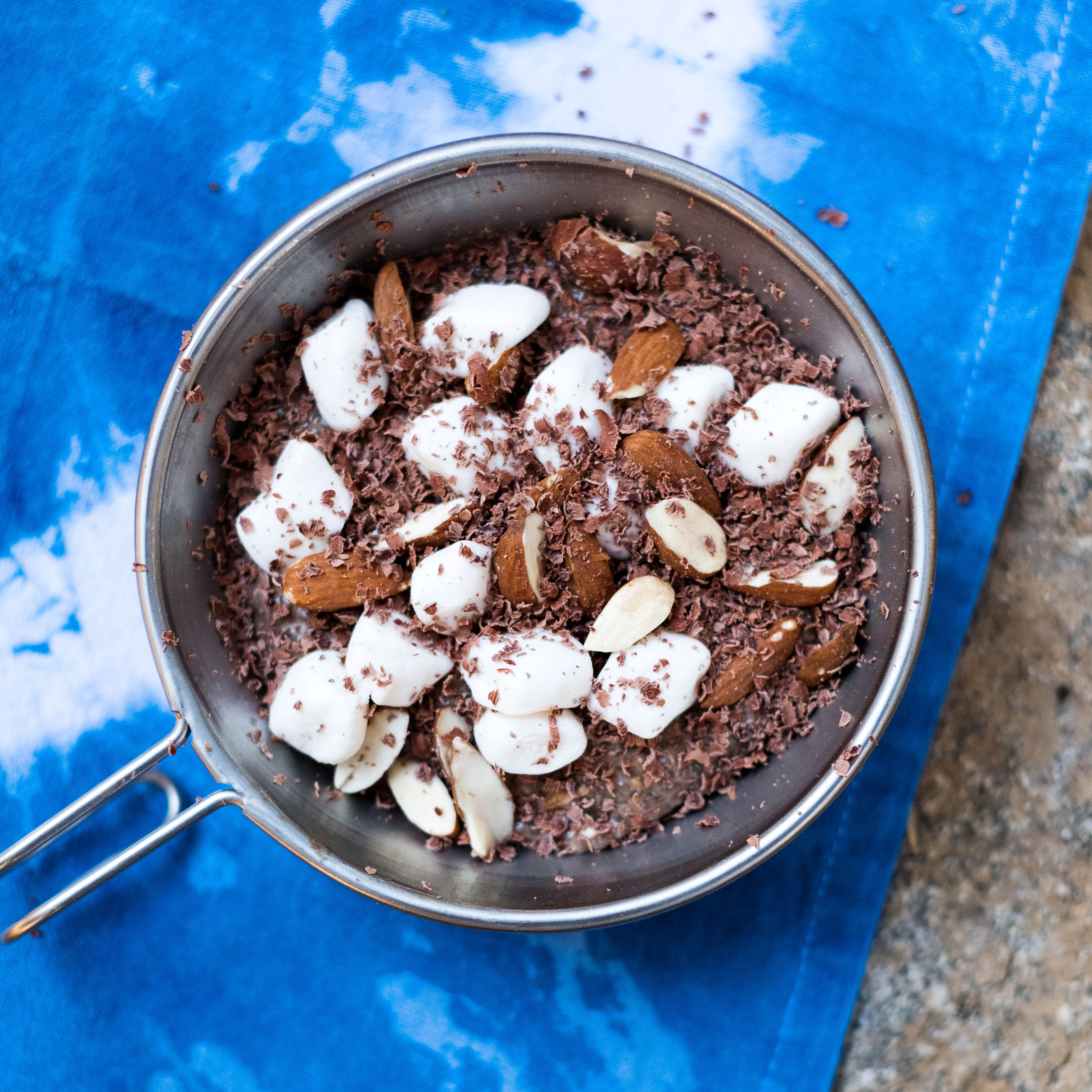 Photo: Thomas J. Story; Prop Styling: Joni Noe
1/4 cup coconut milk powder*, such as Wilderness Family Naturals
4 teaspoons unsweetened cacao* or cocoa powder
6 tablespoons chopped roasted almonds
6 tablespoons mini marshmallows
1/2 ounce semisweet chocolate bar
Step 1
2
Combine coconut milk powder and cacao powder in a small resealable plastic bag. In another small bag, combine chia seeds, maple sugar, and salt.
Step 2
4
In a 2-qt. saucepan or bowl, mix together coconut powder mixture and 1/4 cup water until no lumps remain. Add 1 1/4 cups more water and the chia seed mixture and stir well. Let stand until liquid is absorbed, stirring occasionally, about 20 minutes.
Step 3
5
Spoon pudding into bowls and top with almonds and marshmallows. Grate chocolate over pudding, or cut it into small pieces.
6
*Wilderness Family Naturals organic coconut milk powder is perfect for curries ($20/1 lb.; wildernessfamilynaturals.com). Find unsweetened cacao powder at natural-foods stores and online. Chia seeds, when mixed with liquid, make no-cook pudding (find at natural-foods stores). Coombs Family Farms pure organic maple sugar turns into syrup when you add water ($7.59/6 oz.; natural-foods stores and coombsfamilyfarms.com).
Nutrition Facts
Servings 0
---
Amount Per Serving

Calories 341

Calories from Fat 62

% Daily Value *

Total Fat 23g

36

%

Saturated Fat 5.8g

29

%

Cholesterol 0.0mg

0

%

Sodium 144mg

6

%

Total Carbohydrate 30g

10

%

Dietary Fiber 14g

57

%

Protein 10g

20

%
---
* Percent Daily Values are based on a 2,000 calorie diet. Your daily value may be higher or lower depending on your calorie needs.