Print Options:
Roasted Red Peppers with Garlic and Olive Oil


Yields
Makes 6 to 8 servings


Total Time
1 hr 30 mins
Roasting intensifies the flavors of vegetables, and red peppers are no exception. You can roast these peppers in the oven or on the grill. However you roast them, just make sure they are cooked until softened but not too charred. You can prepare these peppers through step 2 up to 1 day ahead; cover and chill. Let come to room temperature before serving and drain off excess liquid. Be sure to use very fresh garlic; old garlic will taste bitter and strong.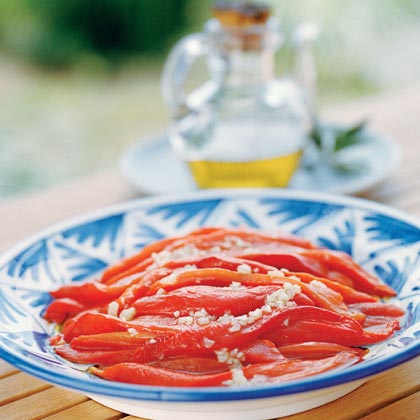 Rachel Weill
1 teaspoon kosher or sea salt
4 tablespoons extra-virgin olive oil
Step 1
1
Preheat oven to 400°. Put peppers in a large baking pan and bake until soft when pressed, 40 to 50 minutes. Let cool 10 to 20 minutes to loosen skin.
Step 2
2
Meanwhile, with a mortar and pestle, mash garlic with salt into a paste (or mash garlic with salt with the flat side of a chef's knife, then put into a small bowl). Stir in olive oil to blend.
Step 3
3
Peel, stem, and seed peppers and cut lengthwise into 3/4-inch-wide strips. Arrange peppers on a platter and drizzle with garlic oil, scraping it out of the mortar or bowl to get all the garlic. Serve warm or at room temperature.
Step 4
4
Note: Nutritional analysis is per serving.
Nutrition Facts
Servings 0
---
Amount Per Serving

Calories 81

Calories from Fat 80

% Daily Value *

Total Fat 7.2g

12

%

Saturated Fat 1.1g

6

%

Cholesterol 0.0mg

0

%

Sodium 246mg

11

%

Total Carbohydrate 5g

2

%

Dietary Fiber 1.2g

5

%

Protein 0.7g

2

%
---
* Percent Daily Values are based on a 2,000 calorie diet. Your daily value may be higher or lower depending on your calorie needs.