Print Options:
Rhubarb Compote with Toasted-Almond Ice Cream Balls


Yields
Makes 8 servings

Tart, rosy red rhubarb goes very well with oranges, and its melting texture sets off the crispness of the almonds. The idea for the nut-coated ice cream balls is from Emily Luchetti, the executive pastry chef at San Francisco's Farallon restaurant. Prep and Cook Time: 1 hour, plus about 30 minutes of cooling and chilling time. Notes: Deep red, field-grown rhubarb, in season (and in many stores) from early spring through late fall in the West, has a more intense flavor than that of paler hothouse rhubarb.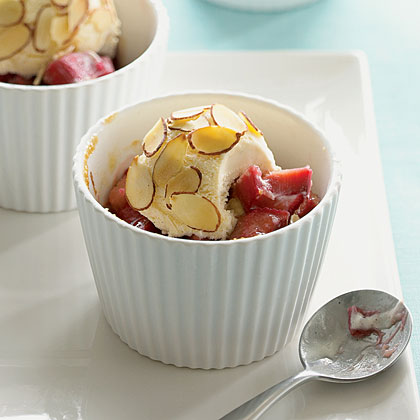 Photo: Annabelle Breakey; Styling: Dan Becker
1 1/2 pounds rhubarb (see Notes)
2 teaspoons instant tapioca
1 1/2 pints vanilla ice cream
2/3 cup toasted sliced almonds
Step 1
1
Preheat oven to 350°. Trim rhubarb and cut into 1/2-in. pieces. In a large bowl, mix rhubarb with sugar, tapioca, and marmalade and let sit 15 minutes. Divide rhubarb and juices among eight 1-cup ramekins and set ramekins on a baking sheet.
Step 2
2
Bake rhubarb until soft but still holding its shape, about 30 minutes. Transfer to a rack and let cool a little.
Step 3
3
Meanwhile, scoop out 8 small ice cream balls and set on baking sheet in freezer. Freeze at least 15 minutes, or until quite hard. Put almonds in a bowl and coat each ball with nuts; then put the balls back in freezer until ready to serve.
Step 4
4
Serve rhubarb warm or at room temperature, each ramekin topped with an ice cream ball.
Step 5
5
Note: Nutritional analysis is per serving.
Nutrition Facts
Servings 0
---
Amount Per Serving

Calories 248

Calories from Fat 35

% Daily Value *

Total Fat 9.7g

15

%

Saturated Fat 3.7g

19

%

Cholesterol 22mg

8

%

Sodium 59mg

3

%

Total Carbohydrate 39g

13

%

Dietary Fiber 0.4g

2

%

Protein 4.1g

9

%
---
* Percent Daily Values are based on a 2,000 calorie diet. Your daily value may be higher or lower depending on your calorie needs.