Print Options:
Red Pepper and Walnut Dip


Yields
Makes 1 1/2 cups (16 servings)

Time: 15 minutes. Red peppers give this dip—based on a Middle Eastern spread called muhammara—a velvety texture, letting you "spend" your fat calories on hearty-healthy nuts and a little bit of oil.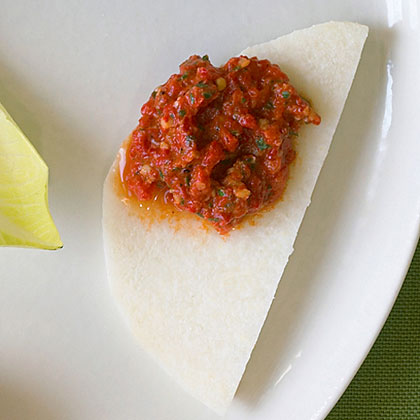 Photo: James Baigrie; Styling: Randy Mon
1 jar (15 oz.) roasted red peppers, rinsed, drained, and chopped
1/3 cup walnuts, toasted and chopped
1/4 cup chopped flat-leaf parsley leaves, plus more for garnish
1 teaspoon finely grated lemon zest
1/2 teaspoon ground cumin
1/2 teaspoon freshly ground black pepper
1/2 teaspoon red chile flakes
Thinly sliced jicama or soft pita bread triangles
Step 1
1
Put all ingredients except for jicama in a blender and pulse until as smooth as you like. Garnish with more chopped parsley. Serve with jicama.
Step 2
2
Make ahead: Chill, covered, up to 1 day.
Step 3
3
Note: Nutritional analysis is per 1 1/2-tbsp. serving.
Nutrition Facts
Servings 0
---
Amount Per Serving

Calories 55

Calories from Fat 55

% Daily Value *

Total Fat 3.3g

6

%

Saturated Fat 0.4g

2

%

Cholesterol 0.0mg

0

%

Sodium 209mg

9

%

Total Carbohydrate 3.9g

2

%

Dietary Fiber 0.2g

1

%

Protein 1.1g

3

%
---
* Percent Daily Values are based on a 2,000 calorie diet. Your daily value may be higher or lower depending on your calorie needs.