Print Options:
Raspberry Sorbet


Yields
Makes 1 qt. (serving size: 1/2 cup)


Prep Time
25 mins

Freeze Time
20 mins

Total Time
45 mins
Anne Walker and Sam Mogannam, the couple behind San Francisco's Bi-Rite Creamery and Bi-Rite Market, love to host ice-cream socials at their home in Sonoma. For this vibrant sorbet, they supplement farmers' market berries with those from bushes in their backyard--if their two young daughters haven't already stolen them.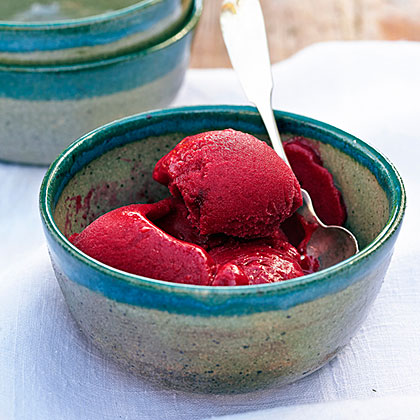 6 cups (6 half-pts.) fresh raspberries
Step 1
1
Make simple syrup: Combine sugar with 1/2 cup water in a small saucepan. Bring to a boil, stirring occasionally to dissolve sugar. Remove from heat and let cool completely.
Step 2
2
Purée raspberries with 1/4 cup water in a food processor or blender. Strain through a fine-mesh strainer into a large, clean bowl, pressing on the seeds with the back of a ladle to get all the usable raspberry purée. You should have about 3 1/2 cups.
Step 3
3
Add 3/4 cup simple syrup, the lemon juice, and salt. The mixture should be a bit too sweet; once it's frozen, it will lose some of its sweetness. Add more simple syrup if necessary.
Step 4
4
Freeze mixture in an ice cream maker according to the manufacturer's instructions. Eat right away or, for a firmer sorbet, freeze about 4 hours.
Nutrition Facts
Servings Makes 1 qt. (serving size: 1/2 cup)
---
Amount Per Serving

Calories 146

Calories from Fat 4

% Daily Value *

Total Fat 0.6g

1

%

Saturated Fat 0.0g

0

%

Cholesterol 0.0mg

0

%

Sodium 26mg

2

%

Total Carbohydrate 36g

12

%

Dietary Fiber 6g

24

%

Protein 1.1g

3

%
---
* Percent Daily Values are based on a 2,000 calorie diet. Your daily value may be higher or lower depending on your calorie needs.