Print Options:
Pumpkin Curry Empanadas


Yields
Makes 20


Total Time
1 hr 15 mins
These handheld savory pies are perfect for a party, with your favorite chutney on the side. Empanadas get their name from the Spanish word empanar, "to bake in pastry." We've used pie dough for a more delicate, buttery crust.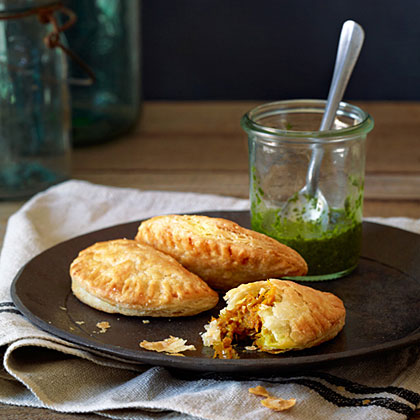 Photo: Annabelle Breakey; Styling: Karen Shinto
2 tablespoons vegetable oil, divided
12 ounces cubed peeled baking pumpkin or butternut or kabocha squash
1/2 teaspoon ground ginger
1/2 teaspoon ground cloves
1/2 teaspoon ground cinnamon
1/4 cup currants, softened 10 minutes in hot water to cover
1 large egg, slightly beaten
Cilantro Mint Dipping Sauce (see sunset.com) or other chutney
Step 1
1
Preheat oven to 375°. Rub a rimmed baking sheet with 1 tbsp. oil. Spread pumpkin on sheet and roast, uncovered, turning once, till tender when pierced, 30 minutes.
Step 2
2
Meanwhile, heat remaining 1 tbsp. oil in a large frying pan over medium heat. Add onion and cook, stirring often, until translucent, about 2 minutes. Stir in spices and cook until fragrant, about 2 minutes.
Step 3
3
Transfer onion to a medium mixing bowl. Drain currants and stir into bowl. Add warm pumpkin and mix well, mashing with back of a spoon to create a slightly chunky mixture.
Step 4
4
Working with one pie-dough disk at a time, roll dough on a lightly floured surface into a 1/8-in.-thick round. Using a 4-in. ring cutter, cut out 20 circles, rerolling scraps.
Step 5
5
Mix 1 tbsp. water into egg and brush onto dough rounds. Spoon 1 tbsp. pumpkin mixture into center of each round, fold over, and seal edges with tines of a fork.
Step 6
6
Line 2 baking sheets with parchment. Arrange empanadas on sheets, spaced slightly apart.
Step 7
7
Bake until golden brown, 15 to 20 minutes. Serve with chutney.
Step 8
8
Make ahead: Follow recipe through step Freeze in an airtight container. Then bake from frozen, 25 to 30 minutes at 375°.
Step 9
9
Note: Nutritional analysis is per empanada.
Nutrition Facts
Servings 0
---
Amount Per Serving

Calories 180

Calories from Fat 55

% Daily Value *

Total Fat 11g

17

%

Saturated Fat 6.1g

31

%

Cholesterol 34mg

12

%

Sodium 117mg

5

%

Total Carbohydrate 18g

6

%

Dietary Fiber 0.9g

4

%

Protein 2.7g

6

%
---
* Percent Daily Values are based on a 2,000 calorie diet. Your daily value may be higher or lower depending on your calorie needs.