Print Options:
Provençal Tartlets


Yields
Serves 4 (serving size: 1 tartlet)


Total Time
3 hrs
Classic ratatouille, typically a side dish, comes front and center as the filling of these inventive tarts. Annie Somerville, now chef at San Francisco's Greens Restaurant, reenvisioned her original recipe by combining cream cheese with masa harina (dried corn dough for tortillas) in the crust, which gives it a rich toasted-corn flavor.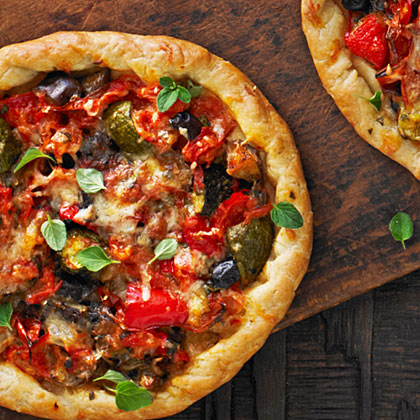 Photo: Iain Bagwell; Styling: Emma Star Jensen
4 tablespoons cold unsalted butter, cut into small cubes
8 ounces cold cream cheese
1 medium green zucchini, cut into 3/4-in. dice or half-moons
1/2 large yellow onion, cut into 3/4-in. dice
1/2 large red bell pepper, stemmed, seeded, and cut into 3/4-in. dice
2 small Japanese or Thai eggplant (10 oz. total), cut into half-moons
1 teaspoon finely chopped fresh thyme leaves
1 teaspoon finely chopped fresh oregano leaves
1/2 tablespoon finely chopped garlic
About 3/4 tsp. kosher salt
5 tablespoons extra-virgin olive oil, divided
3/4 pound Roma tomatoes, halved lengthwise
Several small thyme and oregano sprigs
1/4 cup coarsely chopped black olives, such as gaeta or kalamata
1/3 cup chopped fresh basil leaves
3/4 cup finely shredded fontina cheese, divided
1/4 cup finely shredded parmesan cheese, divided
Step 1
1
Whirl 1 cup flour, the masa harina, and salt in a food processor to blend. Add butter and pulse until crumbly. Add cream cheese in small pieces and whirl until dough comes together. Shape dough into a 3-in.-thick log. Cut in half crosswise to make 2 disks, wrap each in plastic wrap, and chill at least 1 hour and up to 3 days.
Step 2
2
Preheat oven to 400°. Toss vegetables in a large bowl with chopped thyme and oregano, garlic, 3/4 tsp. salt, the pepper, and 1/4 cup oil. Spread vegetables in a single layer on a rimmed baking pan.
Step 3
3
Line another rimmed baking pan with parchment and place tomatoes, cut side down, on sheet. Brush with remaining 1 tbsp. oil, sprinkle with salt, and scatter with sage and thyme sprigs.
Step 4
4
Roast vegetables and tomatoes until vegetables are light golden and very tender and tomato skins are browned and very tender, 30 to 40 minutes. Halfway through cooking, rotate trays and turn vegetables (except tomatoes) with a spatula.
Step 5
5
Meanwhile, halve each dough disk horizontally. On a lightly floured board, roll each into a 7-in. round. Lay rounds on 2 baking pans lined with parchment; chill until ready to bake. Whisk together egg and 2 tbsp. water in a small bowl.
Step 6
6
Roughly chop tomatoes when cool enough to handle. In a large bowl, gently toss chopped tomatoes with roasted vegetables, olives, basil, 1/2 cup fontina, and 3 tbsp. parmesan. Reduce oven temperature to 375°.
Step 7
7
Roll edge of each dough round over on itself to form a thick rim. Mound about 3/4 cup vegetable mixture in center of each; spread even. Sprinkle with remaining fontina and parmesan.
Step 8
8
Brush exposed crusts with egg wash. Bake tartlets until golden, about 35 minutes, switching pans halfway through. Serve warm, scattered with oregano sprigs.
Step 9
9
*Find masa harina in well-stocked grocery stores and Mexican markets.
Nutrition Facts
Servings 0
---
Amount Per Serving

Calories 776

Calories from Fat 68

% Daily Value *

Total Fat 60g

93

%

Saturated Fat 26g

130

%

Cholesterol 173mg

58

%

Sodium 964mg

41

%

Total Carbohydrate 46g

16

%

Dietary Fiber 6.6g

27

%

Protein 19g

38

%
---
* Percent Daily Values are based on a 2,000 calorie diet. Your daily value may be higher or lower depending on your calorie needs.