Print Options:
Picnic Crostini with Roasted Pepper, Onion, and Anchovy


Yields
Makes 10 (serving size: 1 crostino)


Total Time
1 hr
Andrea Slonecker, the Portland-based author of Pretzel Making at Home (Chronicle, April 2013), is an avid picnicker. With some like-minded friends, she formed the Portland Picnic Society, and created this recipe for one of their recent outings. A version of it will appear in her forthcoming book on egg cookery, to be published by Chronicle Books in spring 2014. To prepare this recipe for a picnic, bake the bread ahead of time and let cool; then pack the crostini, the topping, and the anchovies separately.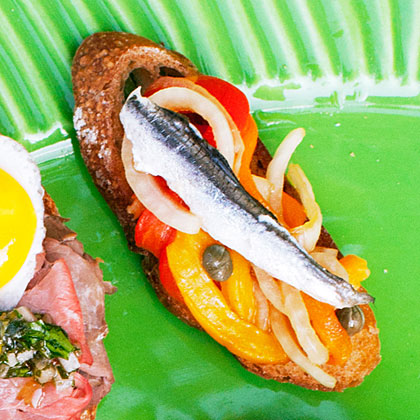 Photo: Tara Donne
About 2 tbsp. extra-virgin olive oil
About 1/2 tsp. kosher salt
1 red bell pepper, roasted, peeled, seeded, and thinly sliced
1 yellow bell pepper, roasted, peeled, seeded, and thinly sliced
1/2 small onion, thinly sliced
2 tablespoons capers, rinsed, drained, and patted dry
2 tablespoons sherry vinegar
1/2 teaspoon packed light brown sugar
2 tablespoons extra-virgin olive oil
2 tablespoons finely chopped flat-leaf parsley
10 marinated anchovies, preferably white (boquerones)
Step 1
1
Make crostini: Preheat oven to 375°. Slice baguette into ten 1/4-in.-thick slices on the diagonal (save leftover bread for another use). Brush both sides of each slice lightly with oil and sprinkle with salt and pepper.
Step 2
2
Set slices on a rimmed baking sheet and bake until golden brown and crisp, rotating pan halfway through cooking, about 15 minutes total. Let cool.
Step 3
3
Make topping: Combine peppers, onion, capers, and salt in a medium bowl. Add vinegar, brown sugar, and oil and toss to coat. Marinate at room temperature for 2 hours or chill overnight.
Step 4
4
Stir in parsley just before serving or before packing your picnic basket. At the picnic site, spoon strained spoonfuls of the mixture onto crostini and top each with an anchovy.
Nutrition Facts
Servings 0
---
Amount Per Serving

Calories 178

Calories from Fat 29

% Daily Value *

Total Fat 6g

10

%

Saturated Fat 0.9g

5

%

Cholesterol 3.4mg

2

%

Sodium 647mg

27

%

Total Carbohydrate 26g

9

%

Dietary Fiber 1.8g

8

%

Protein 6.4g

13

%
---
* Percent Daily Values are based on a 2,000 calorie diet. Your daily value may be higher or lower depending on your calorie needs.