Print Options:
Oven-Smoked Chuck-Eye with Horseradish Cream


Yields
Serves 10 to 12


Prep Time
3 hrs 30 mins

Marinate Time
1 day

Total Time
1 day 3 hrs 30 mins
The chuck-eye roast, aka the chuck-eye roll, is from the beef shoulder, facing the rib-eye roast. It has many layers of fat and sinew that need to be broken down slowly with heat. Tracy Smaciarz, a second-generation butcher who owns and runs Heritage Meats in Rochester, Washington, cold-smokes this cut, then grills it over indirect heat for hours. You can achieve a similar effect by braising the roast in a covered pan with wood chips and onions, allowing it to bathe in a steam bath of onion and smoke until it's juicy. Make sure your wood chips are fresh--they fade with age.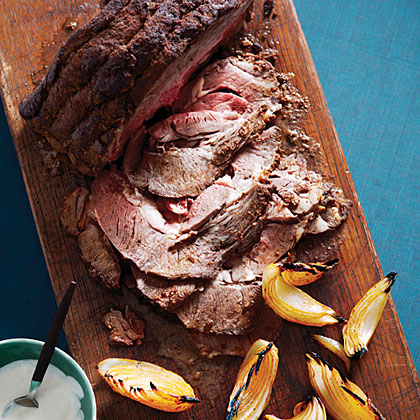 Photo: Maren Caruso; Styling: Robyn Valarik
3 tablespoons freshly ground coriander seeds
About 4 tbsp. olive oil, divided
About 2 tsp. sweet Hungarian paprika
2 tablespoons kosher salt
5-lb. chuck-eye roast, some fat left in and roast tied (ask your butcher for the chuck-eye end)
2 large onions, peeled and cut into 1-in. wedges
3 cups fresh wood chips (mesquite, oak, or hickory), soaked in water 30 minutes
2 1/2 tablespoons prepared horseradish
Step 1
1
Mix coriander, 3 tbsp. oil, 2 tsp. paprika, the salt, and pepper in a bowl. Rub roast all over with mixture and chill, uncovered, at least 24 hours and up to 4 days.
Step 2
2
Preheat oven to 250°. Heat 1 tbsp. oil in a large dutch oven over medium-high heat. Brown roast on all sides. Rub onions with a little oil and the paprika; set aside.
Step 3
3
Drain wood chips and transfer to a roasting pan just big enough to fit roast. Spread chips evenly in pan and set a metal rack over chips. Set roast on rack, spoon onions around it, and cover with heavy-duty foil, sealing tightly.
Step 4
4
Roast meat until it registers 110° on an instant-read thermometer, 1 1/2 to 2 hours. Increase oven temperature to 475°, uncover, and roast until meat registers 130°, about 20 minutes. (If wood chips look dry, sprinkle with a few tbsp. water.) Transfer roast and onions to a carving board and let rest, uncovered, 20 minutes.
Step 5
5
Mix sour cream and horseradish together in a serving bowl. Slice roast thinly and serve with horseradish cream and onions.
Step 6
6
Note: Nutritional analysis is per serving.
Nutrition Facts
Servings Serves 10 to 12
---
Amount Per Serving

Calories 259

Calories from Fat 40

% Daily Value *

Total Fat 12g

19

%

Saturated Fat 4.6g

23

%

Cholesterol 101mg

34

%

Sodium 897mg

38

%

Total Carbohydrate 4.5g

2

%

Dietary Fiber 1.5g

6

%

Protein 31g

62

%
---
* Percent Daily Values are based on a 2,000 calorie diet. Your daily value may be higher or lower depending on your calorie needs.