Print Options:
Orecchiette with Cherry Tomatoes, Marjoram, and Ricotta Salata


Yields
Serves 6 to 8


Total Time
45 mins
For this summery pasta, Berkeley chef and cooking teacher Samin Nosrat cooks down half of the tomatoes into a savory jam, then adds fresh ones at the end. "I like to layer flavors, to have two levels of deliciousness." If you can't find ricotta salata, fresh ricotta works well, too--just drain it and stir in some salt.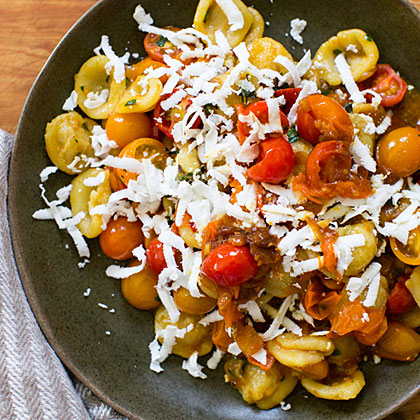 Photo: Thomas J. Story
About 2 tbsp. extra-virgin olive oil
1 medium yellow onion, finely diced
1 to 2 tsp. chopped whole dried red chiles or red chile flakes
2 pts. mixed yellow and red cherry tomatoes, halved
2 tablespoons fresh marjoram or oregano leaves
4 ounces ricotta salata cheese, crumbled
Step 1
1
Bring a large pot of water to a boil and salt generously.
Step 2
2
Heat a large frying pan over medium heat; swirl in 2 tbsp. oil. Add onion and a pinch of salt. Cook until tender, stirring occasionally, about 20 minutes. It's okay if onion picks up color, but don't let it burn; add a splash of water if you need to. Stir in chile and garlic; cook 1 minute.
Step 3
3
Add half of tomatoes and cook until jammy, stirring often, about 10 minutes. "Let them cook until they collapse and start making syrupy bubbles," says Nosrat.
Step 4
4
Boil orecchiette until tender to the bite, 7 to 10 minutes if fresh, 15 to 20 if dried.
Step 5
5
Scoop out pasta and add to pan, along with remaining tomatoes and half of marjoram. If pasta looks dry, add a little oil and pasta water. If you like, stir in some ricotta salata. Spoon into bowls and top with ricotta and remaining marjoram.
Step 6
6
*Because store-bought pasta is thinner than homemade, you get more pieces per pound.
Nutrition Facts
Servings 0
---
Amount Per Serving

Calories 433

Calories from Fat 21

% Daily Value *

Total Fat 11g

17

%

Saturated Fat 4g

20

%

Cholesterol 3.5mg

2

%

Sodium 233mg

10

%

Total Carbohydrate 67g

23

%

Dietary Fiber 4.6g

19

%

Protein 14g

29

%
---
* Percent Daily Values are based on a 2,000 calorie diet. Your daily value may be higher or lower depending on your calorie needs.