Print Options:
Okinawa Sweet Potatoes


Yields
Makes 10 to 12 servings


Total Time
1 hr
Sweet potatoes are a very old food in Hawaii, thought to have been transported to the islands by the earliest Polynesian settlers. Okinawa sweet potatoes, so named because they're native to the Japanese island of Okinawa, turn a stunning deep purple when cooked and have a dense, starchy texture.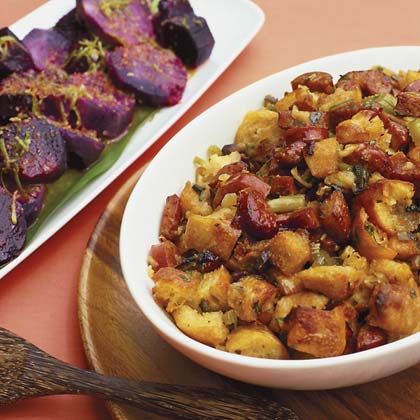 Lisa Romerein
4 pounds Okinawa (purple) sweet potatoes or white sweet potatoes, scrubbed
Hawaiian red clay salt or sea salt
Step 1
1
Bring a large pot of water to a boil over high heat. Prick sweet potatoes with a fork and boil until tender when pierced, 30 to 35 minutes. Drain.
Step 2
2
While potatoes are boiling, grate zest from limes and set aside; then squeeze juice from limes and set aside.
Step 3
3
When potatoes are cool enough to handle, peel and slice into 1/2-in.-thick slices. Arrange on a platter, cover with foil, and put in a 200° oven to keep warm.
Step 4
4
Melt butter in a small saucepan over medium heat until foaming. Stir in zest and cook until fragrant, 1 minute. Remove from heat and stir in lime juice. Drizzle lime butter over potatoes and sprinkle with salt.
Step 5
5
Note: Nutritional analysis is per serving.
Nutrition Facts
Servings Makes 10 to 12 servings
---
Amount Per Serving

Calories 136

Calories from Fat 29

% Daily Value *

Total Fat 4.3g

7

%

Saturated Fat 2.6g

13

%

Cholesterol 11mg

4

%

Sodium 50mg

3

%

Total Carbohydrate 23g

8

%

Dietary Fiber 2.1g

9

%

Protein 2.6g

6

%
---
* Percent Daily Values are based on a 2,000 calorie diet. Your daily value may be higher or lower depending on your calorie needs.