Print Options:
Nasturtium Pesto Pasta


Yields
Serves 2 to 4 (Makes 4 Cups)


Total Time
20 mins
If you're a gardener, you might already grow a patch of cheery nasturtiums and use the peppery flowers to add snap to salads. But did you know that the leaves—even the big, extra-spicy ones—make an excellent pesto for pasta? Like many fiery greens, they mellow when they hit heat. (But do tuck in a few raw leaves just before serving the pasta to keep things exciting.)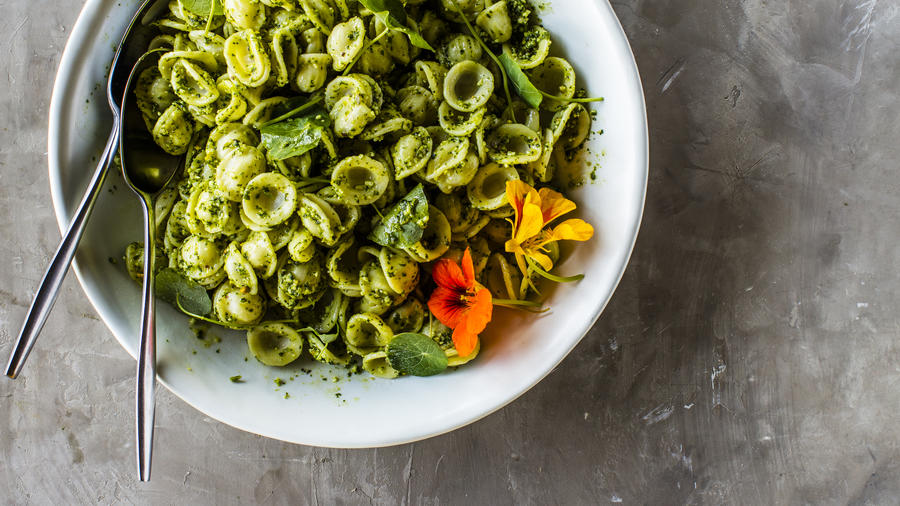 2 tablespoons roasted salted pistachios
2 cups packed large nasturtium leaves and tender stems, plus 1 cup packed small leaves, and a few nasturtium flowers
6 tablespoons extra-virgin olive oil
1/2 cup freshly shredded parmesan cheese
8 ounces dried orecchiette pasta, cooked according to package directions
Step 1
Step 2
2
Toss pesto with pasta. Just before serving, fold in the small nasturtium leaves and top with nasturtium flowers.
Nutrition Facts
Servings 0
---
Amount Per Serving

Calories 657

Calories from Fat 352

% Daily Value *

Total Fat 39g

60

%

Saturated Fat 13g

65

%

Cholesterol 41mg

14

%

Sodium 1045mg

44

%

Total Carbohydrate 46g

16

%

Dietary Fiber 2.4g

10

%

Protein 30g

60

%
---
* Percent Daily Values are based on a 2,000 calorie diet. Your daily value may be higher or lower depending on your calorie needs.