Print Options:
Mushroom and Soft-Cooked Egg Salad with Hollandaise


Yields
4 servings


Total Time
30 mins
We think this spin on classic hollandaise sauce—made with crème fraîche rather than cooked over a double boiler—is brilliant. When drizzled over the warm mushrooms, it melts just enough that you'll wonder if it's the real thing.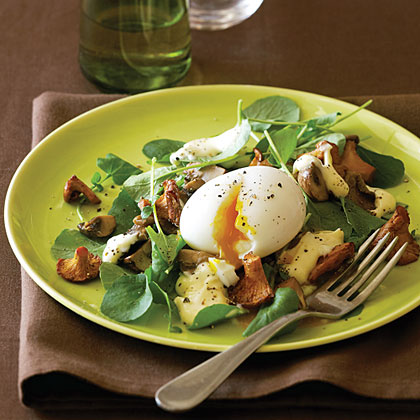 Photo: Annabelle Breakey; Styling: Karen Shinto
3 tablespoons melted butter, divided
1 tablespoon extra-virgin olive oil
8 ounces cremini mushrooms, stems removed and quartered
4 ounces chanterelle mushrooms, cut into 1-in. pieces
4 ounces oyster mushrooms, cut into 1-in. pieces
1 1/2 teaspoons Dijon mustard
About 6 cups watercress with tough stems removed
Step 1
1
Bring a medium saucepan of water to a boil. Using a slotted spoon, gently submerge eggs into water. Simmer 5 minutes, then carefully immerse in cool water.
Step 2
2
Heat 1 tbsp. butter with the oil in a 12-in. frying pan over medium-high heat. Add mushrooms and sauté until browned, about 8 minutes, then season with salt.
Step 3
3
Whisk together crème fraîche, mustard, and lemon juice and zest in a small bowl. Gradually whisk in remaining 2 tbsp. butter to make hollandaise sauce.
Step 4
4
Divide watercress among plates. Top with warm mushrooms, then drizzle with hollandaise. Crack an end of each egg and peel a quarter of shell. Using a spoon, carefully loosen eggs from their shells and scoop onto salads. Add a few turns of pepper on top.
Step 5
Nutrition Facts
Servings 0
---
Amount Per Serving

Calories 326

Calories from Fat 77

% Daily Value *

Total Fat 28g

44

%

Saturated Fat 15g

75

%

Cholesterol 263mg

88

%

Sodium 494mg

21

%

Total Carbohydrate 9.3g

4

%

Dietary Fiber 2.4g

10

%

Protein 11g

22

%
---
* Percent Daily Values are based on a 2,000 calorie diet. Your daily value may be higher or lower depending on your calorie needs.