Print Options:
Mushroom Pâté


Yields
Makes 8 to 12 servings

Notes: A few dried mushrooms intensify the flavor of the fresh mushrooms in this pâté. If the shelled nuts aren't roasted, bake in a 350° oven until lightly browned, 8 to 10 minutes. You can prepare through step 4 up to 2 days ahead; cool, cover, and chill. Bring to room temperature before serving.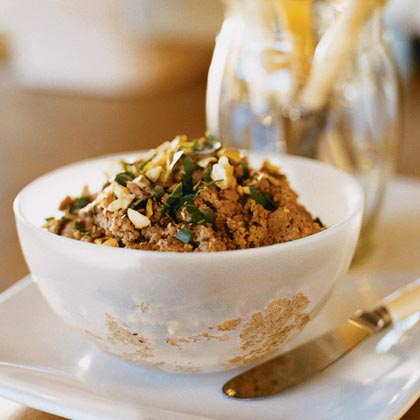 James Carrier
1 to 2 ounces dried shiitake, morel, and/or porcini mushrooms (optional; see notes)
1 pound fresh shiitake, oyster, cremini, or common mushrooms
2 teaspoons chopped garlic
1 1/2 teaspoons curry powder
1/2 teaspoon ground cumin
1 cup unsalted or salted roasted pistachios or almonds (see notes)
2 tablespoons extra-virgin olive oil
Salt and fresh-ground pepper
1 tablespoon minced parsley
Sliced baguettes (toasted if desired) or crackers
Step 1
1
If using dried mushrooms, place in a bowl and cover with 2 cups hot water. Let stand until soft, 15 to 30 minutes. Squeeze mushrooms under water to release any grit, then lift out and rinse thoroughly under running water, gently rubbing to release any remaining grit; discard soaking water. If using shiitakes, trim off and discard tough stems; coarsely chop mushrooms.
Step 2
2
Meanwhile, rinse fresh mushrooms. If using shiitakes, trim off and discard tough stems. Coarsely chop mushrooms.
Step 3
3
In a 5- to 6-quart pan over high heat, melt butter. Add fresh and soaked dried mushrooms, shallots, garlic, curry powder, and cumin; stir often until all liquid is evaporated and mixture is lightly browned, 6 to 8 minutes.
Step 4
4
In a food processor, whirl nuts until finely ground. Add oil and whirl until mixture forms a paste. Add mushroom mixture and whirl until smooth. Add salt and pepper to taste. Mound in a bowl.
Step 5
5
Sprinkle with parsley. Serve pâté with baguette slices or crackers.
Nutrition Facts
Servings Makes 8 to 12 servings
---
Amount Per Serving

Calories 130

Calories from Fat 76

% Daily Value *

Total Fat 11g

17

%

Saturated Fat 3.4g

17

%

Cholesterol 10mg

4

%

Sodium 86mg

4

%

Total Carbohydrate 5.7g

2

%

Dietary Fiber 0.6g

3

%

Protein 3.3g

7

%
---
* Percent Daily Values are based on a 2,000 calorie diet. Your daily value may be higher or lower depending on your calorie needs.