Print Options:
Merguez with Chickpea Purée and Eggplant Jam


Yields
Serves 6


Total Time
2 hrs
Merguez, an aromatic North African sausage, makes a delicious change from the plain old hot dog--especially when you add these sides. The pleasantly bitter dandelion greens cut the fat of the sausage. Suzanne Goin, chef and co-owner of four Los Angeles restaurants--Lucques, A.O.C., Tavern, and the Larder at Maple Drive--created this recipe for an outdoor feast celebrating the 10th anniversary of A.O.C.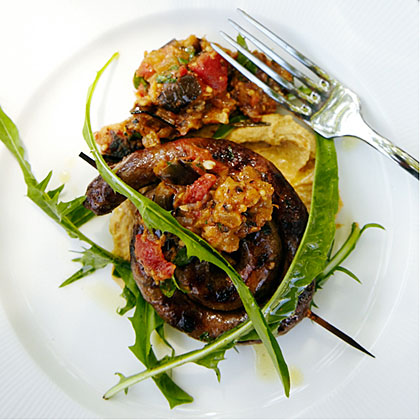 Photo: Cedric Angeles; Styling: Robyn Valarik
2 pounds merguez, preferably in 6 individual coils*
10 to 15 dandelion greens or large arugula leaves
Step 1
1
Skewer sausages if using coils. Heat a grill to medium-low (300° to 350°) and cook sausages, turning as needed, until evenly browned outside and cooked all the way through, about 15 minutes.
Step 2
2
Rinse dandelion greens. Arrange on a large platter with grilled sausage. Serve with purée and jam.
Step 3
3
*Find merguez at butcher shops. If you can't find coiled sausages, buy the individual links, planning on 5 oz. per person.
Step 4
4
Note: Nutritional analysis is per 5 oz. Merguez.
Nutrition Facts
Servings 0
---
Amount Per Serving

Calories 330

Calories from Fat 57

% Daily Value *

Total Fat 21g

33

%

Saturated Fat 0.0g

0

%

Cholesterol 105mg

35

%

Sodium 914mg

39

%

Total Carbohydrate 5.5g

2

%

Dietary Fiber 2.7g

11

%

Protein 30g

60

%
---
* Percent Daily Values are based on a 2,000 calorie diet. Your daily value may be higher or lower depending on your calorie needs.