Print Options:
Mendo Crab Cakes


Yields
Makes 8 first-course or 4 main-dish servings


Total Time
1 hr
Notes: The point of a crab cake is pure crab flavor, not filler, according to Nicholas Petti, chef-owner of Mendo Bistro in Fort Bragg. He won the Mendocino Crab & Wine Days Crabcake Cookoff in both 2002 and 2003 with these simple cakes. The winning wine with crab at the first competition, a Handley Cellars Sauvignon Blanc, is perfect with them. As a shortcut for the tarragon aioli--or if you're concerned about possible bacteria in raw eggs--substitute 1 1/2 cups mayonnaise mixed with 1/4 cup chopped fresh tarragon, 1 1/2 to 2 tablespoons minced garlic, 2 tablespoons lemon juice, and hot sauce and salt to taste. Start the cabbage salad first, then make the aioli and crab cakes.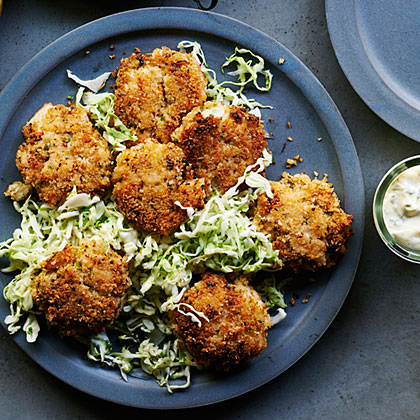 Photo: Peden & Munk; Styling: Amy Wilson
1 pound shelled cooked crab (about 2 3/4 cups)
1 3/4 cups panko (Japanese dried bread crumbs) or other dried bread crumbs, divided
1/2 cup finely chopped green onions (including green tops)
About 1/2 cup vegetable oil, divided
Step 1
1
Sort through crab; remove and discard any bits of shell. In a bowl, combine crab, 3/4 cup panko, and green onions. Gently mix in 3/4 cup tarragon aioli just until mixture holds together.
Step 2
2
Press mixture firmly into eight equal patties about 3 inches wide; set slightly apart on waxed paper or foil. Pour remaining panko into a shallow bowl.
Step 3
3
Preheat oven to 200°. Pour 1/3 cup oil into a large frying pan over medium-high heat. When hot, set each crab cake in panko. Using a slotted spatula, turn, pressing gently to coat.
Step 4
4
Fry cakes in small batches, using more oil as needed, until golden brown on the bottom, 2 to 4 minutes; turn gently and cook until browned on the other side and hot in the middle, 2 to 4 minutes longer. Transfer cakes as cooked to a rimmed baking sheet in a single layer and keep warm in oven. Discard any remaining panko.
Step 5
5
Divide cabbage salad among plates. Set crab cakes next to salad, top each with a dollop of tarragon aioli, and serve immediately, with remaining aioli in a bowl.
Step 6
6
Nutritional analysis per crab cake.
Nutrition Facts
Servings 0
---
Amount Per Serving

Calories 1,121

Calories from Fat 31

% Daily Value *

Total Fat 103g

159

%

Saturated Fat 11g

56

%

Cholesterol 230mg

77

%

Sodium 1,515mg

1

%

Total Carbohydrate 18g

6

%

Dietary Fiber 2.4g

10

%

Protein 42g

84

%
---
* Percent Daily Values are based on a 2,000 calorie diet. Your daily value may be higher or lower depending on your calorie needs.